Homeless services on offer in Leicester
Published on Tuesday, December 18, 2018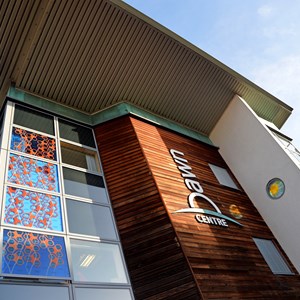 THE city council is tackling homelessness all year round, but over the winter months its services become even more vital to those in need.
The council's Dawn Centre, near to the train station, provides around 45 temporary bedrooms, and 15 emergency beds offered on a nightly basis. It funds another 45 beds through Action Homeless at a range of locations. It also has a safe place for families to stay, called Border House, with room for up to 60 families.
The council funds an additional 85 beds through The Y Support (YMCA) which provides specialist accommodation for young homeless people aged 16 to 25.
In severe weather, the council increases its emergency accommodation for anyone who is sleeping rough, regardless of whether they have a local connection. This means no-one needs to sleep rough in Leicester.
The council can also refer people to charities and other organisations who provide temporary beds and other kinds of support.
These include One Roof Leicester, a charity currently providing a safe place to stay and food on a rotating basis at seven different faith venues across the city.
The Y Support project, located at the Dawn Centre, also offers a day centre and practical help for rough sleepers and those in emergency accommodation, including breakfasts from 8am and hot lunches every weekday.
Cllr Andy Connelly, asst city mayor for housing said: "Our priority is to prevent homelessness from happening in the first place, but we also provide or fund a wide range of accommodation services for those affected by it.
"In the winter we have no government restrictions on funding and can provide as many additional beds as we need. Sometimes people refuse our offer of help, even when it is freezing, but our outreach team will persist in going back to them to offer support.
"As well as accommodation, there is a wide range of support services on offer all year round for people who are homeless or rough sleeping and most of these continue over the festive period."
Services on offer include breakfast provided by the Bridge charity from 6am to 8am every day except Sunday at its premises at 43 Melton Street. On Sundays, The Bridge offers food, drinks and a warm and friendly place to meet from 3pm to 5pm.
Although usually only open to referred clients seeking help with drug or alcohol addiction, the council's Recovery Centre at No.5 Hill Street offers hot and cold drinks from 8am on weekdays during the winter months.
And St James The Greater Church provides an 'Eat 'n' Meet' event every Saturday for people who are rough sleeping, homeless and socially isolated. Running from 11.15am to 12.45pm this session will take place on Saturday 22 and 29 December as usual.
Special services on offer over the festive period include the Triangle Christmas party at Holy Trinity Church, off Upper King Street, on Friday 21 December. The Triangle offers food every Friday from 7pm, apart from Friday 28 December.
And on Christmas day The Bridge will be offering breakfast as usual from 6am to 8am, and also organising Christmas dinner for people sleeping rough, sofa-surfing or in emergency accommodation, at The Case restaurant on Hotel Street, from 12noon to 2pm.
The council's Dawn Centre will be open as usual on Christmas Day. Located on Conduit Street, the centre is open 24 hours a day, 365 days a year.
Services which will close for the Christmas holidays but will otherwise be on offer during the winter as usual include the Centre Project drop-in centre at 1 Alfred Place (opposite Mercure Grand Hotel); and the mental health and general health care drop-in clinics for homeless people at the Dawn Centre.
The Sound Café at St Martin's House, Peacock Lane offers a safe and creative place for people who are homeless or socially isolated to take part in art, poetry, singing or just have a chat, every Wednesday from 1.30pm to 3pm, apart from Boxing Day and 2 Jan.
The city council's rough sleeping outreach team is out in the city from 6am on weekdays looking for rough sleepers.If you see someone sleeping rough in the city this winter, the best way you can help them is to report their location, so they can get the support they need. An easy way to do this is to contact StreetLink.
StreetLink is a website, mobile app and phone-line that enables people to alert local councils to rough sleepers in their area. Make contact via www.streetlink.org.uk, by downloading the free mobile app, or calling 0300 500 0914.
Anyone who is homeless, or worried about someone else who is, can also call the city council's emergency number any time, including out of hours, on 0116 2212770.