Leicester's pioneering approach to tackling diabetes goes to parliament
Published on Wednesday, December 12, 2018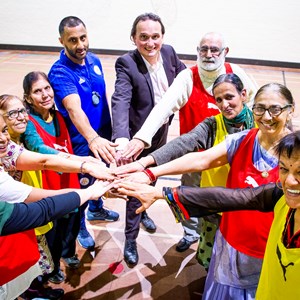 A PIONEERING Leicester project that aims to help local people tackle the threat of diabetes will be showcased at the House of Commons.
Representatives from the Leicester Changing Diabetes programme, Leicester City Council and the city's sporting clubs, have been invited to a parliamentary summit for diabetes in recognition of their shared approach to combatting type 2 diabetes.
Leicester is the first UK city to be part of the Cities Changing Diabetes network, a global initiative launched by Novo Nordisk in response to the dramatic rise of diabetes in urban areas. The local initiative is led by the Leicester Diabetes Centre at Leicester General Hospital
Leicester is also the first city where the city council and all of the main sporting clubs have joined Leicester Changing Diabetes in signing a pledge to help prevent type-2 diabetes by promoting physical activity and healthy eating to fans and the wider community.
The pledge – which was signed last month – is already supported by a citywide programme of professionally-coached fitness sessions where people in at risk groups can find out more about healthy lifestyles and get involved in walking football, walking cricket or other gentle activities on parks and outdoor spaces.
Cllr Adam Clarke, deputy city mayor and executive lead for public health said: "I'm incredibly proud that Leicester has been invited to showcase its shared commitment to reversing the rise in type-2 diabetes and driving down the number of people who suffer from this largely preventable condition.
"We are the first UK city to join the Cities Changing Diabetes network and our new pledge – which involves all of the city's sporting clubs – is a really important step in the right direction.
"The clubs are in a unique position to inspire fans and the wider community to embrace healthier lifestyle choices and take the right steps to reduce their risk of developing diabetes. It can make a huge difference to people's lives."
Deirdre Harrington, PhD, the academic lead for Leicester Changing Diabetes said: "We are using the city's strengths, skills and environment to tackle urban type 2 diabetes in a new way.  
"We are gathering evidence about how these programmes are working locally so we can put Leicester on the mark again globally for its innovative and evidence-based approach to tackling urban type 2 diabetes."
The Leicester diabetes pledge is backed by the Leicester Diabetes Centre (a collaboration between the University of Leicester and University Hospitals of Leicester NHS Trust), Leicester City Council, Leicester City Football Club, Leicester Tigers, Leicestershire County Cricket Club, Leicester Riders and Leicester Hockey Club.
It is estimated that there are around 25,000 people in Leicester living with diabetes. This equates to around 8.9 per cent of the local population, putting the local prevalence rate among the highest in the UK and well above the national average of 6.4 per cent.
The International Diabetes Summit will take place on Thursday 13 December at the Houses of Commons. It has been organised by the All Party Parliamentary Group for Diabetes, which is chaired by the Rt Hon Keith Vaz MP.