New street cleaning machines in operation
Published on Monday, December 17, 2018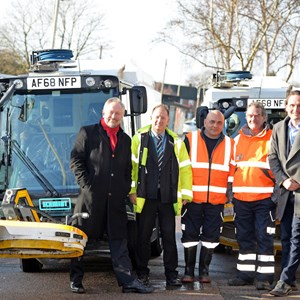 NEW STREET washing machines are now in operation across the city, tackling a range of stubborn cleansing problems including removing chewing gum.
Two new £130,000 street washers, which use hot water to clean roads, pavements and street furniture, have been bought using money from the council's vehicle replacement capital budget.
The machines, which started work last week, use no chemicals and were bought by the city council after extensive trials showed they were far more effective at lifting off chewing gum than machines that use cold water only.
They work using pressurised jets of water – similar to a domestic pressure spray which you might use to clean a patio, but on a larger scale.
City mayor Peter Soulsby said: "We've been looking at what's on the market for a while because we wanted to increase our options when it comes to street cleansing. These machines have proved to be the most effective.
"Using hot water makes a big difference, and it's chemical-free.
"We have been using contractors in the past, but buying in our own machines will be more cost-effective in the long term. It also gives us greater control over where and when we clean, potentially at short notice, and it means the machines can be on the road throughout the week, all year round, instead of contractors."
One of the machines will focus on street cleaning in the city centre, while the other will go round the outer areas and estates, focusing particularly on shopping areas and main gateways into the city. A schedule has been put in place to ensure every ward in the city will be covered.
The city mayor added: "People quite rightly expect our streets to be clean and free of litter. While we can all contribute to this, by investing in these new machines we are ensuring we can tackle problems like chewing gum as quickly and effectively as possible.
"Clean streets and public areas are important for our local economy, for the wellbeing of our residents and for tourism. These machines will be an asset to our cleansing programme."
(ends)