Ravensbridge Drive junction to reopen over Christmas period
Published on Friday, December 7, 2018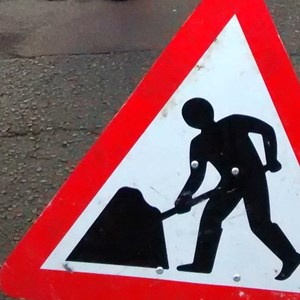 A BUSY junction which has been closed to traffic for six weeks for major improvements will reopen to traffic next week.
The junction of Ravensbridge Drive and the A6 St Margaret's Way will reopen in both directions to traffic from Monday afternoon (10 December) until Sunday, January 6.
Work is still going on at the site, meaning the temporary restriction on traffic turning left from Ravensbridge Drive on St Margaret's Way will remain in place.
A temporary one-way restriction will also remain on Abbey Gate, leading to Ravensbridge Drive. Some off-highway works will also continue.
The junction will re-open in time for the city council's traditional Christmas moratorium, which sees major roadworks eased over the festive period.
City Highways director at Leicester City Council, Martin Fletcher, said: "We have worked with contractors from Tarmac Trading Ltd to ensure this latest phase of these important works is completed to allow the junction to re-open over the Christmas period.
"Some work will continue at the site, but it will not affect traffic which will be able to use the junction both inbound and outbound throughout the December moratorium.
"Work will resume at the beginning of January to complete the project."
Extensive work is being carried out at Ravensbridge Drive, along with nearby Blackbird Road and Anstey Lane, as part of the latest phase of a project to improve key routes between the city centre and developments on the city's northwest boundary and beyond.
The Ravensbridge Drive/St Margaret's Way junction has been completely closed to traffic since October 22, to allow an extra eastbound traffic lane to be added, improvements made to the alignment of the junction and the level of the road raised to remove the existing incline.
At the junction of Blackbird Road, Anstey Lane and Ravensbridge Drive additional lanes are being added to improve traffic flow as part of the same scheme. That junction will remain open, although the right-hand turn into Ravensbridge Drive remains closed.
Throughout the works, local diversions have been clearly signposted and drivers advised to consider using an alternative route to avoid the disruption.
The work is all is part of the wider, six-year, £19million Leicester North West Major Transport Project, which will improve links between the city, key developments such as Ashton Green on the north west of the city, and to the city's Western bypass, the A46 and A50 corridors.
It is also specifically designed to support the wider £240million redevelopment of the city's Waterside area, where developers are creating hundreds of new homes, offices and workplaces.
The Leicester North West Major Transport Project is funded by a combination of Government Local Growth Fund (LGF) money, allocated by the Leicester and Leicestershire Enterprise Partnership (LLEP) and council contributions.
Completed phases of the project include extensive improvements to the A50/Groby Road and nearby roundabouts, and resurfacing on New Parks Way which both took place in summer 2016.
Full details of traffic and travel in Leicester are available from Area Traffic Control on Twitter via @ATCLeicester