Season's Eatings – 'tis the season to be safe
Published on Wednesday, December 5, 2018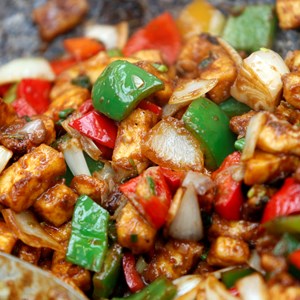 AS Christmas presents go, a dose of food poisoning is unlikely to be on anyone's wish list.
With that in mind, Leicester City Council's Food Safety Team is calling on festive partygoers in the city to check beforehand the food hygiene ratings of their chosen Christmas party venue.
The team regularly inspects food establishments including cafes, bars, restaurants, pubs, hotels, supermarkets and takeaways across the city, giving them star ratings out of five according to how well they meet hygiene standards.
The vast majority are compliant – across the city there are currently 1,478 five-star rated premises, 470 four-star rated establishments, 421 three-star places, 147 which are rated as two-star and 108 which received a one-star rating.
A rating of three or above means standards are at least broadly compliant, with no major concerns. Very good establishments benefit from a five-star score, which many of them proudly put on display.
But at the opposite end of the scale, a zero star rating means an establishment needs to make urgent improvements. The Food Safety Team also has the power to issue emergency prohibition notices to shut down establishments which present an immediate risk to the public.
The ratings are based on issues such as handling, storage and preparation of food, cleanliness of facilities and how well food safety issues are managed.
Leicester City Council's Food Safety Team manager Dave Howard, said: "We have more than 3,100 food establishments across the city, and part of our role is to carry out inspections both to newly-opened premises and existing ones, to ensure they meet the standards that the law requires and that customers expect.
"Not all our 3,100 food establishments are eligible for a rating – only those which serve the public directly are included.
"On average we issue a five-star rating to an establishment in the city every day of the working week, showing that many restaurants, bars and cafes strive to meet the highest standards and achieve the highest rating, which is fantastic.
"Some places are good or broadly compliant, and need to make some improvements to meet the highest standards, while others need to take more action to improve.
"There are currently 18 establishments in the city which have a zero-star rating, and we are working with these to ensure they make the urgent improvements needed to meet the expected standards."
In the last year, Leicester City Council has carried out 12 emergency actions to close down premises deemed to be an imminent risk to the public.
Establishments are only allowed to reopen if they carry out the urgent action required by the inspectors. However their ratings will remain in place until the Food Safety Team is satisfied that they can apply for a re-rating inspection.
While many people mistakenly think that food poisoning is just a passing stomach bug, it can have serious consequences – especially for children, people already in ill-health and older people.
Adam Hardgrave, expert in Foodborne Disease Control at the Food Standards Agency, said: "The 4cs of food hygiene – chilling, cleaning, cooking and avoiding cross-contamination – are important throughout the year, but especially at Christmas."
In most cases food poisoning symptoms can get better within a few days without treatment, although hospital treatment can be required in more serious cases.
Leicester deputy city mayor responsible for regulatory services, Cllr Piara Singh Clair, added: "The vast majority of food outlets in the city are rated as four or five star – meaning their standards are good or very good – but some unfortunately do not meet the same high standards.
"So if you are planning your Christmas party in the city, it is definitely worth checking the Food Hygiene Rating Scheme listings to see which establishments are working to meet the highest standards.
"After all, nobody wants to be struck down with food poisoning for Christmas."
It is easy to search for premises' scores on the Food Hygiene Rating Scheme online at the Food Standards Agency website, on: https://www.food.gov.uk/safety-hygiene/food-hygiene-rating-scheme
(Ends)