Successful bid generates extra £14m for city and county
Published on Friday, December 14, 2018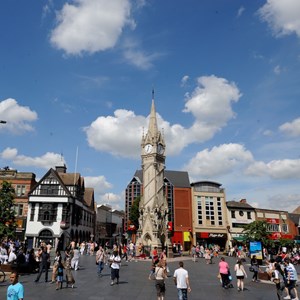 MAJOR plans to unlock an extra £14m for public services across Leicester and Leicestershire have been given the thumbs up.
Secretary of State James Brokenshire announced yesterday (Thursday) that the area was one of 15 chosen to take part in a national Government pilot.
The money - generated from business rates – will be used by 10 organisations to manage growing demand for children's social care and homelessness support, provide infrastructure for new homes and businesses and invest in city and town centres.
Nick Rushton, leader of Leicestershire County Council - the lead authority for the bid – welcomed the announcement and said: "This is great news. It generates vital funds for us to spend here in Leicester and Leicestershire and I'd like to thank Neil O'Brien and the other Leicestershire MPs for their support.
"Growing demand for children's social care is a big challenge for local government and this money enables us to explore how we can reduce costs whilst improving lives.
"The city and county are expanding too and business is booming. With 187,000 new homes planned by 2050 and more businesses setting up shop here, it's important we invest in roads, transport and the other key building blocks required to support this growth."
Currently, 50 per cent of business rates collected by councils must be paid to the treasury but under the national pilot, areas can spend 75 per cent of new rates locally, releasing more funds.
City mayor Peter Soulsby said: "Allowing us to spend a greater proportion of this money locally makes perfect sense, as we can use it to drive local growth, infrastructure improvements, and to ease the pressure on services like children's social care.
"Investing this extra money across the city and county will allow us to drive further growth and prosperity for our region, making us an attractive prospect for further inward investment in the future."
Plans are still being finalised but the money is set to contribute to:
Reducing demand on children's social care by investing in services to avoid children entering into care, stabilise family-based placements and support young people to live more independently
Developing online and re-designing services – to improve efficiency and free up money to be spent on front line services
Exploring how to reduce the growing cost of homelessness and expanding work tackling fraud
Boosting new jobs and the economy by contributing to proposals for new road infrastructure and improvements to the city and town centres
Notes
The money will be available from business rates collected in 2019/20.
The 10 organisations behind the bid are: Leicestershire County Council, Leicester City Council, Leicestershire Fire and Rescue Service, Blaby District Council, Charnwood Borough Council, Harborough District Council, Hinckley and Bosworth Borough Council, Melton Borough Council, North West Leicestershire District Council and Oadby and Wigston Borough Council.