Waste collection changes over Christmas period
Published on Monday, December 10, 2018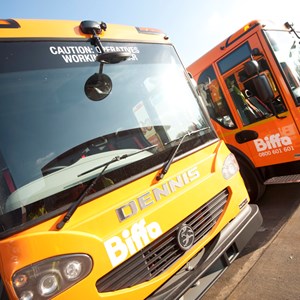 LEICESTER City Council will be making changes to regular waste and recycling collection days due to the Christmas bank holidays.
There will be no collections on Tuesday 25 December or Tuesday 1 January. Homes that normally have their waste and recycling collected on a Tuesday will receive a collection on Monday 24 December and Monday 31 December instead.
All other regular collections will be one day later than usual for the remainder of the Christmas week, with a collection on Saturday (29 Dec) for those homes that normally have their waste and recycling picked up on a Friday.
Waste and recycling collections will return to normal from Wednesday 2 January.
Households can put out as many orange recycling bags as they need for their recyclable waste.
Cllr Adam Clarke, assistant city mayor for energy and sustainability, said: "With the number of bank holidays over the Christmas period, it becomes necessary to make some change to the days that people have their waste and recycling collected.
"We've worked closely with Biffa to keep this year's changes as simple as possible and its teams will be out on the Saturday after Christmas to help ensure that nobody has to miss a weekly collection."
Information is being sent to all households to remind them of the changes.
Festive items like sweet and biscuit tins and tubs, glass bottles and jars, cardboard boxes, and non-metallic wrapping paper and greetings cards can all be bagged for collection as recycling.
Real Christmas trees can be composted. Unwanted artificial Christmas trees should be disposed of at either of the city council's recycling centres.
Opening hours at the city's two household waste recycling centres will also change over the holiday period.
Both the Gypsum Close and Freemen's Common sites will be closed on Christmas Day, Boxing Day and New Year's Day. The centres will be open from 8am until 2pm on Christmas Eve (24 Dec) and New Year's Eve (31 Dec), and from 8am until 6pm at all other times.
Details of opening times for the Gypsum Close trade recycling centre will be available on the council's website.
For more information visit www.leicester.gov.uk/recycling