Water main burst delays Ravensbridge Drive reopening
Published on Monday, December 10, 2018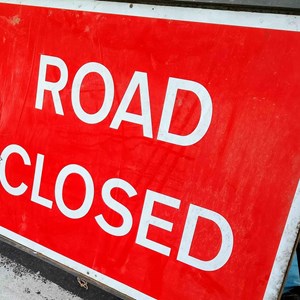 A MAJOR water main burst has delayed plans to reopen a busy road junction in Leicester.
The junction of Ravensbridge Drive and the A6 St Margaret's Way was due to reopen to traffic on Monday, December 10, after being closed for six weeks for major improvements.
However, a burst water main over the weekend has caused significant damage requiring a section of the road to be resurfaced before it can reopen.
Severn Trent Water have been onsite repairing the water main itself, with contractors Tarmac Ltd now due to carry out urgent resurfacing work overnight tonight.
Once the route reopens, it will remain open over the Christmas period until Sunday, January 6, although various existing traffic restrictions will remain in place while the improvement works continue onsite.
The temporary one-way restriction will also remain on Abbey Gate, leading to Ravensbridge Drive. Some off-highway works will also continue.
City Highways director at Leicester City Council, Martin Fletcher, said: "We have been working with contractors from Tarmac Trading Ltd to ensure these works were completed in time for the junction to re-open over the Christmas period.
"However, this significant water main burst has now delayed the work, and although Seven Trent Water have repaired the main itself, the extent of the damage caused means an area of the road needs to be resurfaced before it can reopen to traffic.
"We are doing everything we can to ensure Tarmac completes this work so the road can reopen as soon as possible."
The improvement works at Ravensbridge Drive, Blackbird Road and Anstey Lane are the latest phase of a project addressing key routes between the city centre and developments on the city's northwest boundary and beyond.
An extra eastbound traffic lane is being added at the Ravensbridge Drive/St Margaret's Way junction, along with improvements to the alignment of the junction and the road level.
At the junction of Blackbird Road, Anstey Lane and Ravensbridge Drive additional lanes are being added to improve traffic flow as part of the same scheme. That junction will remain open, although the right-hand turn into Ravensbridge Drive remains closed.
Local diversions are clearly signposted.
The work is all is part of the wider, six-year, £19million Leicester North West Major Transport Project, which will improve links between the city, key developments such as Ashton Green on the north west of the city, and to the city's Western bypass, the A46 and A50 corridors.
It is also specifically designed to support the wider £240million redevelopment of the city's Waterside area, where developers are creating hundreds of new homes, offices and workplaces.
The Leicester North West Major Transport Project is funded by a combination of Government Local Growth Fund (LGF) money, allocated by the Leicester and Leicestershire Enterprise Partnership (LLEP) and council contributions.
Full details of traffic and travel in Leicester are available from Area Traffic Control on Twitter via @ATCLeicester
(Ends)