Castle Classic heralds weekend of cycling in Leicester
Published on Thursday, July 26, 2018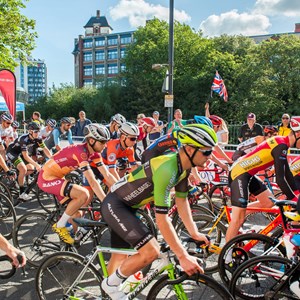 With the Tour de France heading for a thrilling climax this weekend, cycling season is very much upon us.
Here in Leicester, we have a top race of our own. The Castle Classic sees the creme of domestic cycling talent take to our streets for a thrilling elite-level race.
Taking place on Sunday 12 August, the race is free to watch, and will see elite cyclists competing in a fast, flat and challenging 80km, 20-lap race. The course takes in Mile Straight, the King Power Stadium and a tricky cobbled section outside Leicester Castle.
The start and finish point is on Western Boulevard, and there is plenty of space along the route to cheer on the riders. Thousands are expected to attend, and, as the race features 20 laps of furious action, you can see the riders multiple times as they jostle for position and race tactics play out.
On Sunday, once the excitement of the elite race is over, everyone in Leicester is invited to join in with HSBC UK's Let's Ride Leicester – a mass family bike ride on traffic-free streets, looping between the King Power Stadium, Leicester Castle and the Clock Tower.
Additional activities on offer during the Ride Leicester Festival include guided rides, cycle talks, bike films and a rickshaw parade. There will also be several neighbourhood mini-fests with cycling-themed activities, held in conjunction with the sustainable transport charity Sustrans.
The Ride Leicester festival includes a two-day re-enactment of the Green Bicycle Mystery, an infamous local murder case from 1919. It will feature a led bike ride, on both Saturday 18 and Sunday 19 August, followed by case presentations and a re-enactment of the courtroom trial at the original courtroom in Leicester Castle.
Whether you're roadside cheering on the elite riders, or giving cycling ago during Let's Ride, we hope you have a great time during what is sure to be a wonderful weekend of cycling fun.