Catch the Gingerbread Man at Leicester libraries this summer
Published on Wednesday, July 11, 2018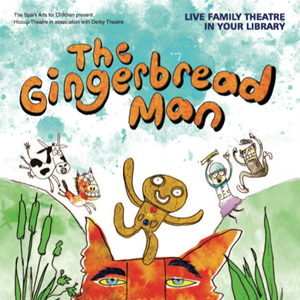 A SWEET theatrical treat is on offer for city families next week (w/c 16 Jul), as a performance of The Gingerbread Man tours local libraries.
The hour-long show, presented by The Spark Arts for Children and the city council's library service, is suitable for children aged four and above.
The aim is to bring exciting, creative drama into local neighbourhoods at an affordable price for families. Tickets cost £3 for library members, with a family ticket at £10.
Chase after our cheeky gingerbread hero as he sets off on the biggest adventure of his life – out of the kitchen, through the town, across the fields and all the way to the river. But will he be able to avoid that sly old fox…?
The performance is by Hiccup Theatre, in association with Derby Theatre, who promise to cook up a brand new version of this classic tale, complete with "delicious, original live music, tasty storytelling and dollops of fun."
The project is funded by Arts Council England.
Cllr Kirk Master, assistant city mayor responsible for neighbourhood services, said: "This is great timing for families looking for something local and low-cost to do in the first week of the summer holidays. Visitors to the library for these performances can also take part in our summer reading challenge and earn rewards for reading six books over the summer break.
"Simple activities like this can be the sort of thing children remember attending for years to come – they have a really positive impact and are great fun."
Performances will take place on Monday 16 July at Fosse Library (11am) and the Brite Centre (3pm).
On Tuesday 17 July, the performance will be at Beaumont Leys Library at 11am and New Parks Library at 3pm.
On Thursday 19 July, there are performances at Highfields Library at 11am and St Barnabas Library at 3pm, while on Friday 20 July, the theatre company visits Hamilton Library at 11am and the Pork Pie Library & Community Centre at 3pm.
There is a final performance at Belgrave Neighbourhood Centre at 3pm on Saturday 21 July.
It's free to join the library. To find out how, and how to join the summer reading challenge, visit www.leicester.gov.uk/libraries
(ends)