City Festival 2018
Published on Thursday, July 12, 2018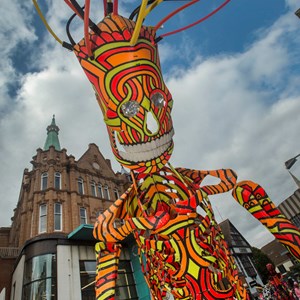 City Festival celebrates everything we love about Leicester, right in the heart of the city. Come and get involved over 10 days of street entertainment, sports, culture, music, art, heritage and more. This year's event run from 17 to 27 August.
Now in its sixth year, the festival has grown to be one of the major events in Leicester's calendar. 
Many regular events will be returning this year including Get Active, Ride Leicester, Leicester Belgrave Mela, Journeys Festival International, Cosmopolitan Carnival and the ever popular Old Town Festival.
As well as these, several one-off events and performances have been announced:
Steli by Stalker Teatro is an interactive urban performance that uses contemporary art and live performance along the themes of living in a post-industrial city. The whole thing will look like a giant game of pick-up sticks taking place in the city centre.
BLOCK by NoFit State Circus and Motionhouse will leave you speechless, as performers leap and bound around a concrete playground of giant Jenga blocks.
The Invasion by Ljud features an interplanetary expedition of immigrants from outer space! members belong to different alien species, but they have one thing in common - they're bright pink! 
All these and more can be enjoyed for free throughout City Festival. 
Keep up-to-date with City Festival and other events in Leicester by following @leicesterfest on Twitter and www.facebook.com/leicesterfestivals on Facebook.
Check out the Visit Leicester website for even more information, as well as tips on where to eat, drink and make the most of your visit to Leicester.