Exhibition marks 50 years since Leicester's worst floods
Published on Monday, July 9, 2018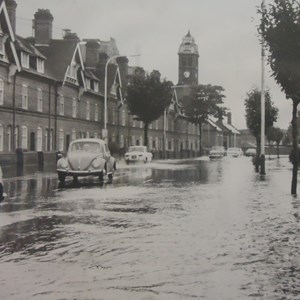 AN exhibition marking 50 years since severe floods struck Leicester will be held at Newarke Houses Museum this weekend.
On 11 July 1968, the Saffron Brook burst its banks following heavy rainfall, causing serious flooding in the Saffron and Aylestone areas of the city. The devastation was reported in the Leicester Mercury under the headline 'It's Lake Leicestershire'.
The exhibition – called Leicester Flood Memories – collects archive photographs and memories of local people to help raise awareness of what people can do to prepare for flooding.
It runs on Friday 13 July and Saturday 14 July – from 10am until 4pm – and admission is free.
Staff from the council's flood team and the EU-funded POWER project will be on hand to offer advice and show people how they can sign up to the Leicester Water Community website.
Deputy City Mayor Cllr Adam Clarke, who leads on environment and public health, said: "This 50th anniversary is a good opportunity to remind people that climate change has increased the risk of flooding in cities like Leicester.
"Huge investment was made following the 1968 floods and today major investment continues as part of our partnership with the Environment Agency. It is still vital that we consider the steps we need to take now, as a city and as individuals, to ensure that we are as prepared as possible for a major flood event."
The POWER project is an EU-funded international scheme to share best practice and advice on global water issues, such as flooding, drought and water conservation.
Leicester is one of the project's four key demonstration cities, along with Milton Keynes, Jerusalem, and the Spanish city Sabadell.
The local project is led by De Montfort University with support from Leicester City Council.
To find out more visit https://leicester.power-h2020.eu or email flooding@leicester.gov.uk