Feel the Force at New Walk Museum this summer
Published on Wednesday, July 18, 2018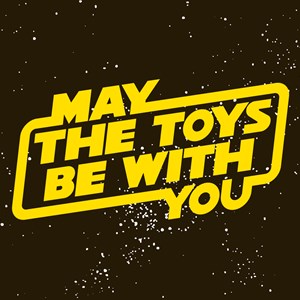 A STUNNING new exhibition showcasing one of the UK's finest and most complete collections of original Star Wars toys and film posters opens at Leicester's New Walk Museum and Art Gallery this weekend.
May The Toys Be With You celebrates the vintage, collectable Star Wars line of toys and iconic film poster artwork in one of the most complete and best collections anywhere.
The exhibition will open on Saturday, July 21, in an event featuring both Imperial and Rebel costumed characters from the 501st Legion UK Garrison re-enactment group, along with winners of a Star Wars-themed fancy dress competition, and demonstrations of sabre fighting and martial arts that would make any Jedi proud.
May The Toys Be With You features around 460 objects from the personal collection of Star Wars devotee Matt Fox, including rare film posters and unpublished artwork, along with a breathtaking collection of action figures, many of which were manufactured by Palitoy in Coalville.
Like many millions of children growing up in the late 1970s and early 1980s, Matt began collecting Star Wars merchandise as the must-have play thing, but went on to assemble one of the most detailed and best-condition collections of Star Wars merchandise anywhere.
Visitors will be able to explore the figures chronologically, from the very first 'Early Bird' set of figures onwards.
Some of the exhibits will be on display alongside their more rare, alternative versions, while film posters carrying the now legendary Star Wars artwork will complete the picture, including a previously unpublished original alternative artwork for the first Star Wars film by artist Tom Beauvais.
Deputy City Mayor responsible for culture and leisure, Cllr Piara Singh Clair, will officially open the exhibition at 11am. Sabre Masters will then demonstrate their sword fighting skills.
At 1pm and 3pm, there will be demonstrations of Korean sword fighting martial art Haidong Gumdo, echoing the epic lightsabre battles which kept a generation of youngsters transfixed to the big screen.
Visitors will also be able to create Star Wars artwork and fill in space-themed activity sheets throughout the three-month free exhibition.
Cllr Clair said: "We are very lucky to be exhibiting this incredibly detailed and complete collection of vintage Star Wars figures.
"Anyone who was a child in the late 1970s or early 1980s will remember how exciting and popular these toys were, and over the years they have become hugely collectable and highly evocative of that period in time.
"This exhibition will be a fantastic trip down memory lane for many people of that generation, and also a superb history tour through the massive success of Star Wars merchandise, in which Coalville's Palitoy factory was one of the original leading lights."
Matt Fox added: "I'm really pleased that Star Wars is coming home!
"Leicestershire was home to Palitoy, the local company who made the toys that myself and millions of other kids so enjoyed.
"It means a lot to have this exhibition here – and it's completely free to visit. I'm a father of two, and I do hope that mums and dads, who might remember these toys from back in the 80s, will bring along their kids to share the memories.
"This exhibition has broken attendance records at previous venues because it genuinely is a day out for all the family to enjoy together."
An estimated 300 million Star Wars action figures were produced between 1977 and 1985. The figures quickly became highly collectable, with sales of merchandise even outstripping the box office record set in 1977 by the first instalment of the Star Wars saga.   
The original Star Wars trilogy – Star Wars, The Empire Strikes Back and The Return of the Jedi – tell the thrilling story of a galactic civil war, in which the Rebel Alliance tries to free the galaxy from the grasp of the evil Galactic Empire, and follows hero Luke Skywalker's quest to become a Jedi Knight.
May The Toys Be With You is free to visit, and runs at Leicester's New Walk Museum and Art Gallery from July 21 to October 28.