Filbert Fox backs 1,000 Tweaks campaign to promote healthy lifestyles for children
Published on Friday, July 6, 2018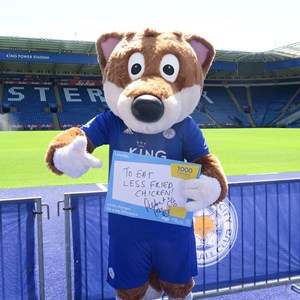 LEICESTER City's much-loved mascot Filbert Fox is backing a new city council campaign that promotes healthy lifestyles for children.
The campaign – called 1,000 Tweaks – will see individuals, organisations, families and businesses pledge to make small, manageable changes that will make it easier for children to live healthily.
It comes as the city council launches its new healthy weight strategy for children, young people and families in the city.
As part of the campaign, people will be asked to share any healthy lifestyle changes they make by tweeting about them, using the hashtag #1000tweaks.
To kick things off, Leicester City Football Club's mascot Filbert Fox has pledged to cut down on the amount of fried chicken he eats, replacing it with a healthier alternative.
Organisations and businesses will also be making tweaks, and the hope is that overall, more than 1,000 tweaks will be gathered, demonstrating just how easy it can be to make small changes.
For example, a café or restaurant might pledge to put water on tables before customers are seated, promote their healthier options or reduce the portion size of meals with a high fat or sugar content.
Grandparents could pledge to take a few trips to the park with their grandchildren, and public buildings might pledge to have free water easily available to visitors. Families could decide to cut out fizzy drinks, for example, in favour of water or milk.
Deputy city mayor Cllr Sarah Russell, who leads on children, young people and schools, said: "We know that we need to increase the number of children living in Leicester who have a healthy weight. We want to promote healthy eating, positive body image and the advantages of being fit, strong and active.
"We also want to make these issues everyone's business. That's why we're talking to local businesses, partners and organisations to get them on board with making healthy tweaks."
Deputy city mayor Cllr Adam Clarke, who leads on public health, said: "It can be intimidating to think you need to make big changes to your lifestyle – but by breaking things down into a series of small 'tweaks', it makes any changes more manageable.
"We want to help families to enjoy good food together, and hope that by launching 1,000 Tweaks, people will share their recipes and ideas for eating healthier food with other local people, giving us all the chance to get healthier."
Figures from the National Child Measurement Programme show that by the time they reach the end of primary school, 36.5 per cent of Leicester schoolchildren are overweight or obese. This compares to 33.9 per cent across England as a whole.
A health and wellbeing survey of 3,000 children carried out in Leicester in 2016 suggested only 18 per cent exercised every day.
The new healthy weight strategy sets out how the city council hopes to work with partner organisations to better focus resources on those who need it most. The strategy will also promote initiatives like 1,000 Tweaks to help people make small changes for better health.
The city council also runs several initiatives to promote healthy lifestyles, such as free summer cycling events and 'kids for a quid' sessions over the school summer holidays, where children can swim at city leisure centres for just £1.
Specialist dieticians also work with some families to help them eat more healthily, while community growing schemes are helping people to grow, cook and eat food from neighbourhood gardening projects.
To join in with 1,000 Tweaks, email 1000tweaks@leicester.gov.uk or 'tweet your tweak" to the campaign @ActiveLeicester
To view the strategy, visit www.leicester.gov.uk/1000tweaks
(ends)