Lots of family fun on offer in city this summer
Published on Friday, July 6, 2018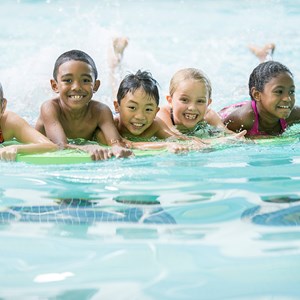 FAMILIES can find out about hundreds of fun things to do in Leicester throughout the school holidays - including the chance for kids to swim for a quid - with the help of the city council's summer fun activities guide.
The guide highlights the vast range of activities on offer in the council's seven leisure centres, 12 children's centres, sports facilities, parks and other venues.
Asst city mayor for culture, leisure and sport, Cllr Piara Singh Clair said: "There are always lots of things going on in our sports and leisure centres, and this summer there are even more to choose from. We hope this guide helps people to make the most of the wide range of activities on offer."
As well as regular activities such as pool discos, toddler's splash sessions, trampolining and fitness classes, the guide contains details of offers new for this summer.
These include the chance to tackle the mobile climbing wall, which will be in Victoria Park, Spinney Hill Park and Knighton Park during July and August.
Kids age six to 16 can swim for a quid at all city council pools, with the exception of Leicester Leys Leisure Centre; swimming is already free for children age five and under.
And fans of table tennis will be glad to know that Ping is back for the summer, with free-to-use table tennis tables, bats and balls at a range of venues around the city.
The revamped Humberstone Heights golf course will be offering footgolf and pitch and putt sessions every day from 8am to 9pm from Monday 16 July to Friday 31 August.
And full details of a new, summer walking and cycling programme are also set out in the guide. Ranging from guided rides to heritage walks, bike-fix sessions and try-outs, to a Star Wars-themed family quiz trail, there's something for everyone.
Families looking to get moving this summer can find out about a free programme of fun activities at their local children's centre.

The Get Up & Go scheme will give people the chance to try their hand at circus skills, have fun with a hula hoop, or have a go at a range of activities taking place throughout the school holidays at all 12 of the city's children's centres.

Families can register for the scheme by popping in to their nearest children's centre to collect their free Get Up & Go passport.
More details on all of the activities and venues are in the guide, which is available on the city council's website