Loughborough Road Bridge closes to traffic from this weekend
Published on Thursday, July 12, 2018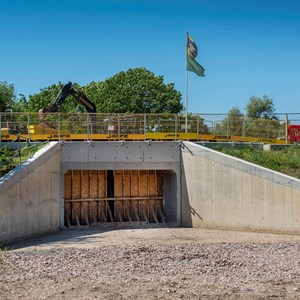 DRIVERS are being reminded that a major road bridge in Leicester will close to traffic from this weekend as vital flood risk work nears completion.
Loughborough Road Bridge will close to traffic from Sunday 15 July, for about eight weeks, while a new flood water culvert and subway is installed.
Clearly signed diversions will be in place inbound along Abbey Lane and Abbey Park Road, and outbound along Melton Road and Watermead Way.
Work will be carried out during the schools' summer holiday when there is usually 10-15 percent less traffic on the roads, but delays are still are expected and drivers are advised to allow extra journey time.
Businesses in the area will remain open as usual.
The work is a vital part of a £5million project being managed by the Environment Agency in partnership with Leicester City Council. It will reduce flood risk to over 600 homes and businesses in the nearby Belgrave and Abbey Meadows areas.
The final phase of the project is set to begin almost two months earlier than originally planned. This will involve the installation of a large flood water culvert.
Currently, there is a risk that the bridge itself – which spans the River Soar – could act a bit like a dam in the event of a flood, causing water to back up.
The new culvert will act as a bypass for flood water, helping to significantly reduce flood risk to hundreds of nearby properties. It will also act as a subway on a new riverside cycleway that is being created as part of the project.
The footpath beneath Loughborough Road Bridge will also be closed during the works. An alternative pedestrian route – via Thurcaston Road Bridge and Abbey Lane – will be well-signed on site.
Paul Lockhart, area flood risk manager at the Environment Agency, said: "This major work at Loughborough Road Bridge is an important part of our ambitious programme of reducing flood risk in Leicester.
"The road closure will allow for the installation of the culvert over the summer. Once complete, this important project will help reduce the risk of flooding to hundreds more homes and businesses as well as improving this attractive part of the riverside for people to use and enjoy."
City Mayor Peter Soulsby said: "It's great to see that work is progressing well on this major project, which represents another step in improving the city's resilience to flooding
"We appreciate that closing a bridge on a busy road will cause disruption for people who live nearby and motorists who rely on these routes, but this is vital work that will protect hundreds of nearby properties from the risk of flooding."
The Loughborough Road Bridge flood relief scheme is being delivered on behalf of the Environment Agency. It has been designed by global engineering experts AECOM and is being carried out by Jacksons, one of the largest civil engineering contractors in the UK.