New dementia-friendly garden opens at Abbey Pumping Station Museum
Published on Thursday, July 5, 2018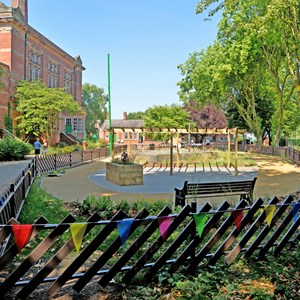 A NEW garden designed as a quiet outdoor space for people living with dementia is being officially opened in the grounds of Abbey Pumping Station Museum.
The garden, consisting of a fenced area with a circular path, seating and wildflowers as well as sensory planting, will be launched on Saturday, July 7, from 9.30am.
The garden, costing £46,000, is designed as a calm safe place for people living with dementia, their carers and families.
The garden is the latest addition to a programme of dementia-friendly measures in museums across the city to help develop resources and activities.
Those launching the new facilities will include Leicester Deputy City Mayor responsible for culture and leisure Cllr Piara Singh Clair, Assistant City Mayor for adult social care and wellbeing Cllr Vi Dempster, along with the council's head of arts and museums Joanna Jones, and guests.
Memory boxes and bags will also be available on the day, containing items designed to trigger memories and enable people to take a trip down memory lane.
For the last four years, Leicester Museums Service has been part of a citywide dementia agenda, involving partnerships with the Alzheimer's Society, Age UK, Highcross Leicester and the city council's adult social care team, as well as building on work done by the National Museums Liverpool's 'House of Memories' dementia-awareness programme, to develop resources and activities helping people living with dementia, their carers and families to live better.
Cllr Clair said: "The dementia-friendly garden came from the idea to provide some quiet space where people could sit down in peace away from the hustle and bustle, and this part of the grounds of Abbey Pumping Station Museum was identified as a suitable location.
"Hopefully it will encourage families and carers to visit the museum, both to revisit items that may be familiar reminders of Leicester's past, and to relax outdoors in the museum grounds."
A new children's play area, which is located in the museum grounds near to the National Space Centre, is also nearing completion. The £85,000 facility will feature a range of play equipment including a Leicester-themed bus, slides, see-saw, and sand activity centre.
Cllr Dempster added: "The effects of dementia can have a very profound physical, emotional and psychological impact, both on the individuals and those who care for them, so it is vitally important that we are involved in initiatives like this which can help make visiting city council buildings that little bit easier for people living with dementia.
"We are fully committed to taking the dementia agenda forward to raise awareness and ensure dementia-friendly resources are available throughout the city."
(Ends)