Portrait of King to go on show in city of his resting place
Published on Friday, July 27, 2018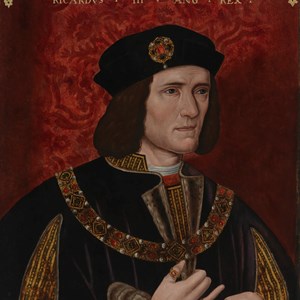 AN ICONIC portrait of King Richard III will go on display at Leicester's New Walk Museum next summer, thanks to a new initiative by the National Portrait Gallery in London.
The gallery's Coming Home project is loaning works depicting famous people to the places they are most closely associated with – which means that the late 16th century portrait of Richard III by an unknown artist will be loaned to the city of Leicester in 2019.
The portrait – which measures around 25" x 18" – shows a head and shoulder view of the King, who appears to be placing a ring on the little finger of his right hand.
News of the loan comes as Leicester's King Richard III Visitor Centre celebrates its fourth birthday.
Deputy city mayor Cllr Piara Singh Clair said: "The remains of King Richard III were discovered in Leicester and reinterred in Leicester Cathedral in 2015, so it's fitting that this prestigious portrait is 'coming home'.
"This oil painting is one of the primary portraits of King Richard III, so it's an image that will already be familiar to many people in Leicester – especially those who have been to our visitor centre.
"We are delighted that New Walk Museum will be part of this project and we're very grateful to the National Portrait Gallery for making this loan possible."
The Coming Home initiative will see 50 portraits from the national collection travel to towns and cities across the UK.
A portrait of William Wilberforce – who led Britain's campaign to abolish slavery – will go on display in Hull, the place of his birth, David Hockney's Self-Portrait with Charlie will be shown at the Cartwright Hall Art Gallery in the artist's hometown of Bradford, while a photographic portrait of Sheffield-born athlete Jessica Ennis-Hill will go on loan to Museums Sheffield.
Jeremy Wright, Secretary of State for Digital, Culture, Media and Sport, said: "Every corner of the UK has well known faces who have played a significant role in our nation's history. I am delighted that 50 of these famous figures will be returning home so that current generations can be inspired by their stories. We are determined to ensure that more of the UK can see some of our world-class art collections, and with thanks to the National Portrait Gallery, Coming Home is an exciting first step in the right direction."
The National Portrait Gallery has been collecting portraits of men and women who have made a significant contribution to British life and history since 1856.
Dr Nicholas Cullinan, Director of the National Portrait Gallery, said: "We hope that sending portraits 'home' in this way will foster a sense of pride and create a personal connection for local communities to a bigger national history; thus helping us to fulfil our aim of being truly a national gallery for everyone, in our role as the nation's family album."
Coming Home is supported by the Department for Digital, Culture, Media and Sport, by generous contributions from The Thompson Family Charitable Trust, and by funds raised at the gallery's Portrait Gala in 2017.
Picture credit: King Richard III by Unknown artist, late 16th century © National Portrait Gallery