Revamped King Street is 'another jewel in city's crown'
Published on Tuesday, July 24, 2018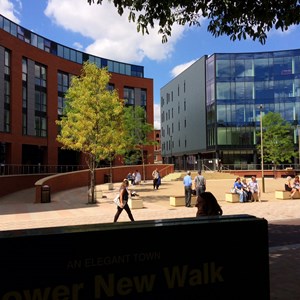 A MAJOR transformation of a popular city centre street has been given a finish fit for a king following a £1million refurbishment.
King Street, in Leicester's city centre, has been completely revamped by the city council, with wider pavements, an attractive new outdoor seating area and a missing link restored in New Walk's Victorian promenade.
Footpaths have been reconstructed in high quality block paving and dark red asphalt has been used to brighten up the carriageway. An existing seating area, shaded by mature trees on New Walk, has been overhauled with sculpted cement and stone furniture.
The characteristic golden gravel finish of New Walk now continues across King Street itself, restoring a lost link in the walkway before it continues on to Welford Place.
The scheme has been designed to complement a new tree-lined, public piazza created as the part of the redevelopment of the site of the former city council offices at New Walk Centre. The crumbling buildings were memorably brought down by controlled demolition in 2015.
Local developer Ingleby, part of the Sowden Group, has since transformed the two acre site with a major scheme featuring 50,000sqft of office space, 54 apartments and new space for retail.
Local wealth management and employee benefits business Mattioli Woods will be taking on the full 50,000sqft of office space later this summer, helping to bring over 450 new jobs into the city centre.
City Mayor Peter Soulsby said: "This marks a new chapter for King Street, which really is another jewel in the city's crown.
"When we left New Walk Centre, I made clear my determination to attract new investment into this part of the city centre. The area has since been completely transformed and the former council offices are a dim memory.
"Along with new homes, much-needed office space and the return of a major local employer to the city, we now have a much more welcoming and attractive open space that complements New Walk beautifully.
"With Mattioli Woods soon to make the area its new city centre home, it will give a tremendous boost to this part of the city centre."
Roy Coley, managing director of Sowden Group, said: "We are delighted to have been able to bring this scheme to fruition and are extremely proud of what we have achieved."
Ian Mattioli MBE, chief executive officer and co-founder of Mattioli Woods plc, said today: "We are excited to be moving to the heart of the city where our story first began 27 years ago, and at a time when there is a great vibrancy about Leicester.
"Our new building is not only a focal point of this revamped area, but will bring £15million of salaries into the city and leave us ideally positioned to partner with local companies and help create a long-term, sustainable business. It gives us the ambition and scope to grow the business for the next 50 years and beyond.
"We feel the redevelopment of King Street will greatly complement and enhance our new surroundings. It will not only enrich this particular part of the city centre, but Leicester in general."
The King Street revamp is part of Connecting Leicester – a major programme of works which is improving routes through the city centre for pedestrians while making it more attractive to investors and developers.
As part of the work around the new development, a new link has been created between the cycle lanes on Welford Road and Belvoir Street, and wider pavements constructed.