Schoolchildren show off their cycling skills with mass schools' bike ride
Published on Thursday, July 5, 2018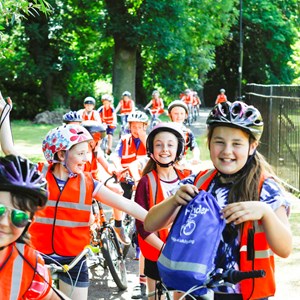 AROUND 350 schoolchildren from 11 schools will take part in a mass ride into the city tomorrow.
Leicester City mascot Filbert Fox will be leading in the young cyclists as part of the annual schools' bike ride.
The ride gives Year 5 & 6 schoolchildren from across the city and county the chance to put into practice the Bikeability skills they have learned and make the most of the city's cycle tracks and neighbourhood road routes.
On Friday 6 July, schoolchildren will set off on their rides – supervised by teachers and ride leaders – to converge at Leicester Cathedral from 11.30am.
Once there, they'll see a demonstration from mountain bike stunt rider Danny Butler, enjoy a comedy show with comedian Tiernan Douieb and will be awarded with Bikeability certificates by deputy city mayor Cllr Sarah Russell.
Cllr Russell said: "This is a great event that allows schoolchildren to find out how easy and enjoyable it can be to bike into the city centre, using cycle tracks and quiet routes. It's inspiring the next generation of cyclists in Leicester.
"The Bikeability skills that these children have learned at school and in their local neighbourhoods help them to become safe and considerate cyclists."
Nick Quinn, director of St Martins at Leicester Cathedral, said: "We're very happy to host this year's schools' ride. Cathedral Gardens is a great venue for schools' ride celebrations, and we look forward to welcoming everyone."
The ride marks the start of a summer of cycling in Leicester, with a programme of events suitable for all cyclists of all abilities.
There are monthly pop-up Bike Fest events on Leicester's purpose-built cycle circuit at New College, with the chance to try out the circuit for free. The next one is on Saturday (7 July), as part of the Western Park Festival.
Open Streets, on the last Sunday of each month, is a celebration of traffic-free streets staring from Leicester's new Market Square. Join a free, family-friendly cycle or walking tour of the city, exploring Leicester's unique urban heritage.
The Ride Leicester festival, from 11-26 August, is a packed two-week celebration of all things cycling, kicking off with the fast and furious Castle Classic cycle races. On 12 August, spectators will line Leicester's streets to watch elite cyclists compete in this exciting kermesse-style road race, with a route that takes in Mile Straight, the King Power stadium and the Leicester Castle area.
Later the same day, people get the chance to take to traffic-free streets themselves for a mass cycle ride through the city centre. The mass ride – called HSBC UK Let's Ride Leicester – is free and open to all, with a route lined with bike-themed events and activities.
Cllr Adam Clarke, deputy city mayor responsible for environment and public health, said: "We're looking forward to a summer of cycling in Leicester, showcasing just how easy and enjoyable it can be to choose to explore the city by bike or on foot."
All of these events are organised by the city council in partnership with British Cycling. Janet Hudson, British Cycling's partnership manager for the East Midlands, said: "We're delighted to work in partnership with the city council and with HSBC UK to help bring these fantastic cycling opportunities to Leicester over the summer.
"We're also encouraging new school riders and their families to join in with HSBC UK Let's Ride Leicester on 12 August, another fun opportunity for a free mass ride on traffic-free routes."
For more information on Bikeability training, email cycletraining@leicester.gov.uk
More information on the HSBC UK Let's Ride Leicester can be found at letsride.co.uk/events/leicester
(ends)