Take an 'Adventure in Time' at Jewry Wall
Published on Wednesday, July 4, 2018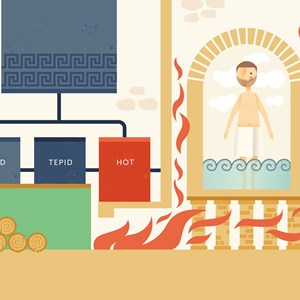 TWO family-friendly events are due to take place at Leicester's Jewry Wall this summer.
The first free event takes place this Sunday 8 July to help celebrate the start of the Leicestershire and Rutland Festival of Archaeology. Called 'Bringing our Past to Life', the free event is open will feature recent archaeological discoveries, crafts, games, costumes and the chance for younger visitors to try their luck as a Roman legionary.
The event runs from 11am until 4pm.
Visitors will also be able to try out 'An Adventure in Time', a new app from The Friends of Jewry Wall Museum that takes young people on a 2000 year journey back to Roman Leicester.
The app – downloadable from the Google Play and Apple App Store – features fun games and activities to bring the Story of Leicester's Roman baths to life, and can be used at the site, at home or in the classroom.
As well as the app, The Friends of Jewry Wall Museum has also developed a new mobile website that provides a more in-depth background to Leicester's Roman baths. This can be viewed at http://jewrywallstory.leicester.gov.uk/
Both the app and website have been created through a partnership project between The Friends of Jewry Wall and Leicester City Council, funded by the Heritage Lottery Fund.
Jennifer Macgregor of The Friends of Jewry Wall said: "We were delighted to receive the funding from HLF to help tell the story of this incredible site. The app is fun and engaging and will hopefully help us to take the Jewry Wall story to a younger audience. We're also delighted to working with the Festival of Archaeology again, and our neighbours at St Nicholas Church."
Deputy City Mayor Cllr Piara Singh Clair, who leads on culture and leisure, said: "The great thing about this app is that it can help reach out to new audiences – especially young people – who can now access information about Jewry Wall and have fun while they learn wherever they are."
A second event, Romans on Parade, will take place on Sunday 29 July from 11.30am to 3.30pm. A full festival programme is available to download from www.leicsfieldworkers.co.uk