Apprentices celebrate achievements at graduation ceremony
Published on Wednesday, June 20, 2018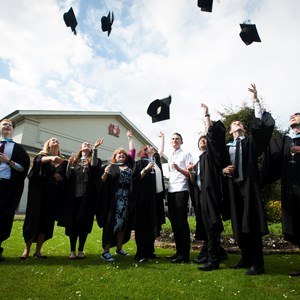 APPRENTICES from the city and county will get the chance to celebrate their achievements at a graduation ceremony later this month.
Hundreds of people who have successfully completed an apprenticeship in the past 12 months have been invited to the ceremony, which is hosted by the city council's employment hub.
It will take place at De Montfort Hall in Leicester on Friday 29 June.
At the event, each apprentice will be personally called up onto De Montfort Hall's stage to be congratulated by the Lord Mayor, Cllr Ross Grant, and Professor Dana Brown, principal of Leicester Castle Business School.
There will also be awards for Intermediate Apprentice of the Year (sponsored by Rathbone/Intraining), Advanced Apprentice of the Year (sponsored by University Hospitals of Leicester), Higher Apprentice of the Year (sponsored by De Montfort University), and Employer of the Year (sponsored by 3aaa).
There will be a personal message from city mayor Peter Soulsby and a speech from Prof Dana Brown.
More than 200 businesses which support apprentices will also be invited to attend, along with family and friends of the graduates.
Also attending will be students from Leicester College, St Elizabeth's Joyful Voices school choir and the Bluecoats Jazz Orchestra, supporting the event through their musical performances.
City mayor Peter Soulsby said: "Attracting and retaining skilled employees is an extremely important part of our local economy, so it's fitting that we celebrate the people who are helping to drive our local businesses by working hard to gain those vital skills. I congratulate all of the apprentices who will be graduating at this ceremony, and the businesses who have done so much to support them."
Tracey Waterfield, employment hub manager, said: "This is our fourth graduation, where we have been able to demonstrate to employers the value of skills delivered through employing apprentices.
"Each year we get very good feedback from those who take part in this event, which gives apprentices and employers alike the chance to celebrate their achievements."
Eligible apprentices will be sent an invitation to the graduation ceremony, and need to confirm their attendance by logging on to yourgraduation.co.uk by Friday 22 June at the latest.
If you're an apprentice and think you could be eligible, you can also book a place online by logging on to the website above and searching for 'Leicester Employment Hub Graduation'.
Apprentices should live in Leicester or Leicestershire and should have completed either an intermediate, advanced or higher level apprenticeship between 1 April 2017 and 31 March 2018. The graduates book caps and gowns for £20, with tickets costing £10 for family and friends.
For more details visit leicesteremploymenthub.co.uk/apprenticeship-graduation-ceremony
This event will also signal the official launch of the Employment Hub, a three-year, £3.9 million business support project for small to medium-sized enterprises (SME) in Leicester and Leicestershire. For more information visit leicesteremploymenthub.co.uk
(ends)