Award for council scheme that helps get people into work
Published on Wednesday, June 13, 2018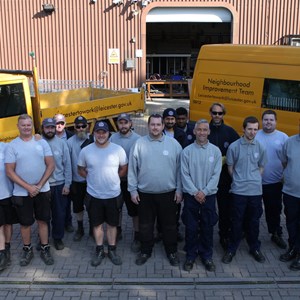 A COUNCIL scheme that helps people get into work and improves local neighbourhoods has won an award.
Leicester City Council's Neighbourhood Improvement Scheme works in partnership with Leicester College to support unemployed people by offering them work experience and short-term job opportunities.
Applicants are referred by the job centre to Leicester College, where they enter the sector-based work academy. This means they get on-the-job training as well as covering subjects including health and safety, principles of risk assessment and customer service.
They then complete two days' work experience with the city council's Neighbourhood Improvement Scheme, and are invited for an interview for the role of neighbourhood operative at the council. If they're successful, they'll get a six-month contract.
Now the council has received a Partnership Award from Leicester College as part of the college's Awards to Industry 2018.
Cllr Andy Connelly, assistant city mayor responsible for housing, said: "We take on staff every three months for a six-month contract, aiming to build up their confidence and skills while encouraging teamworking. The scheme is now in its eighth year and we have taken on more than 180 unemployed people.
"We offer the six-month contracts so that we can help lots of people experience work in this way and gain a reference.
"During their six-month contracts, staff will clear gardens, remove sheds and greenhouses, lay slabbed areas, fences and pathways, and do some outdoor painting."
Cllr Kirk Master, assistant city mayor responsible for neighbourhoods, added: "This is a really good introduction into the world of work, learning transferrable skills such as customer service and health and safety. It also helps to improve our communities and neighbourhoods.
"We work closely with Leicester College and the Department for Work and Pensions to run the scheme, so it's fantastic to have this close working partnership recognised by Leicester College's award."
Ian Lewis, city skills centre manager at Leicester College, said: "Leicester College wanted to recognise the council for the support it has provided to this programme since its inception eight years years ago.
"The Neighbourhood Improvement Team played a valuable part in the design and development of the programme and it has proven to be a great success."
At the end of their six-month contracts, many of the workers move into full-time, permanent work. Some move on to positions in grounds maintenance and highways with the council, while others join the council's housing apprenticeship scheme, or go on to find work with other employers.
Paul Desmond took part in the scheme and now works as a senior customer service officer at Haymarket Bus Station.
He said: "I think the scheme is brilliant. I had a great relationship with my supervisor, who was always there to support and advise us. The six-month contract benefitted me because I learnt about areas of Leicester I didn't know, I learnt about the council and how it works and I learnt how to do the job. 
"I enjoyed being part of a team that was transforming an area, but what I loved the most was seeing the difference it made to residents.  We would regularly have residents telling us while we were working what a great job we had done, we had a lot of compliments, which was lovely."