City schoolchildren choose their Best Book
Published on Thursday, June 7, 2018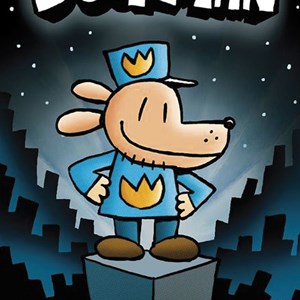 THOUSANDS of city schoolchildren have been voting for their favourite books as part of an initiative to encourage reading.
Our Best Book, which is organised every year by the city council's libraries service, asks children aged 10-11 to read a shortlist of books and then choose their favourite.
There's always a wide variety of books on the shortlist, including one or more graphic novels or cartoons, so that there's something for everyone. This year's winning book – Dog Man by Dav Pilkey – tells the story of man's best friend unleashed as a crusading half-man, half-dog police officer. In a knockabout cartoon adventure, Dog Man outwits the evil villain Petey the cat.
The book faced tough competition from other titles on the shortlist, including Beaky Malone, World's Greatest Liar by Barry Hutchison; Radio Boy by Christian O'Connell; Flesh and Blood by Chris Priestley and The Everything Machine by Ally Kennen.
The winner was unveiled at a special event held at Leicester Tigers on 7 June, which was attended by more than 350 schoolchildren from 37 schools, as well as by author Ally Kennen. 
Cllr Kirk Master, assistant city mayor responsible for neighbourhood services, revealed the Our Best Book winner at the event.
Cllr Master said: "Our Best Book is a great initiative, encouraging and motivating primary school children to read for pleasure and enjoyment.
"It's also a chance for us to help schools and schoolchildren develop awareness of new authors and books, and provide schools with 95 new books so that children can read the titles on our shortlist.
"Schools taking part receive nearly 4,000 books selected by librarians so that children can read a wide range of titles. Developing a love of reading as a child is something that can stay with you throughout your life."
The Our Best Book event featured performances from five schools, inspired by the five shortlisted books. These included a 'Dog Man' animation created by children from Buswells Lodge Primary with the help of artist Owen Craven-Griffiths, from the Spark Arts for Children.
The initiative is supported by city primary schools, Creative Learning Services and the Whatever It Takes reading campaign.
To find out more about Leicester's libraries, visit leicester.gov.uk/libraries
(ends)