Dinosaur's anniversary marked at New Walk Museum
Published on Tuesday, June 12, 2018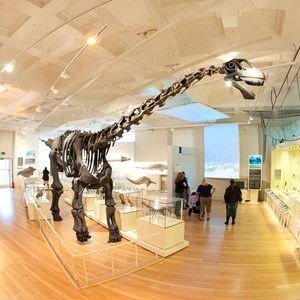 A DINOSAUR which has towered over visitors at Leicester's New Walk Museum for over 30 years will be the centrepiece of an event this weekend marking the anniversary of its discovery.
The colossal fossilised Cetiosaurus skeleton – known as the Rutland Dinosaur – was discovered exactly 50 years ago in June 1968, and has taken pride of place in the museum's hugely popular dinosaur gallery since 1985.
The anniversary is being marked on Saturday, June 16, to coincide with celebrations of New Walk Museum's 169th anniversary.
Events will include children's craft activities, along with two free talks by experts, including "The Rutland Dinosaur: 50 Years of Discovery" by the museum's curator of natural sciences Dr Mark Evans, and "Charnia – How One Leicestershire Fossil Changed The World," by Lynsey Swift.
Those attending the events will include a range of local history and heritage groups, including Leicester Civic Society, Friends of Jewry Wall, Leicester Industrial History Society, Leicester Fieldworkers, The University of Leicester Archaeology Service, Leicestershire and Rutland Wildlife, and The Royal School of Chemistry, Midlands, along with The Russell Society and the Leicester Literary and Philosophical Society.
The events run throughout the day from 11am to 4pm.
Leicester Deputy City Mayor for culture and leisure, Cllr Piara Singh Clair, said: "The Rutland Dinosaur is a fascinating part of our local history, and is one the best-loved exhibits at the museum by visitors of all ages.
"Since it going on display at the museum 33 years ago, it has been the centrepiece of our Dinosaur Gallery.
"Earlier this year, the gallery was even licensed for civil weddings to meet the demand from couples wanting the Rutland Dinosaur to feature in their special day.
"This weekend's events are a great opportunity to visit the museum for free and find out more about the stunning artefacts on show."
The Rutland Dinosaur was discovered 50 years ago in June 1968, by the driver of an excavation vehicle at a quarry near Little Casterton in Rutland. The 49ft (15 metre) skeleton is one of the most complete fossils of its kind in the UK, although some of the original parts are too fragile to be on display and are represented by replicas.
New Walk Museum itself was one of the first public museums in the UK when it opened back in 1849, and houses notable exhibits including the pre-Cambrian era Charnia Fossil and the UK's largest collection of German Expressionist Art.
(Ends)