Grab a rickshaw ride at popular street food event
Published on Monday, June 25, 2018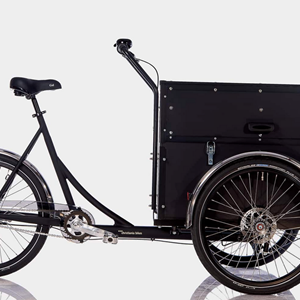 VISITORS to Leicester's popular Canteen street food event later this week will be able to test-ride some new rickshaws.
Five new electric-assisted rickshaws have been bought by Leicester City Council to help get people and equipment around the city.
They'll be launched on Friday 29 June, when they'll attend the start of the Critical Mass cyclists' gathering, outside Curve, before heading over to the nearby LCB Depot to take part in the Canteen street food event.
Leaders from the city council's Ride Leicester initiative will be on hand to ferry people around the Cultural Quarter as an introduction to the new bike fleet.
The rickshaws, which can carry loads of up to 300kg, will be used to carry equipment for various different festivals and events in the city centre. For example, the gazebos, flags and bike racks used to create pop-up Ride Leicester bike parks at city events will, from now on, be transported by rickshaw.
Deputy city mayor Cllr Adam Clarke, who leads on the environment, said: "We've invested in these Ride Leicester rickshaws to make it easier and faster to deliver kit, saving time and reducing motor traffic when streets are van or car-free while events are going on.
"They can also carry people, and we will use them to make our cycle events inclusive for people who cannot cycle, or who need extra support to get involved in a cycle event.
"By setting an example and using electric bikes, we hope to help reduce demand for diesel and petrol-powered vehicles, especially at events across the city centre.
"The number of freight and passenger-carrying bicycles in everyday use in the city is growing. This fleet provides an opportunity for businesses and community projects to try them out before maybe buying their own."
Janet Hudson from British Cycling added: "Last year, rickshaw rides were a popular part of Let's Ride Leicester – the city's mass bike ride on traffic-free streets – and we plan to use them again this year.
"They can be used for lots of other events too, including the Open Streets rides from the new Market Square, and Bike Fest events at Leicester Cycle Circuit. All of these events are run by the city council in partnership with British Cycling."
The rickshaws will also be used for new monthly inclusive rides led by Ride Leicester and supported by the University of Leicester. These rides will start from the Attenborough Arts Centre on the last Sunday of each month, starting at 11am on Sunday 29 July. See www.Letsride.co.uk for details.
Funding of £16,000 for the rickshaws has come from the Government's Access Fund for sustainable travel projects.
The fleet includes a wheelchair-carrying bike and bikes which can carry young children.
Find out more about Ride Leicester initiatives supported by the city council at @RideLeicester on Twitter and facebook.com/RideLeicester
(ends)