Heritage panels brighten up bus station
Published on Thursday, June 14, 2018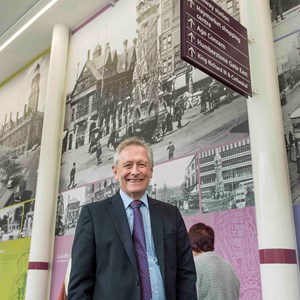 VIEWS of Leicester from a bygone age are now brightening up the walls of Leicester's Haymarket bus station.
The city council commissioned the set of giant panels to highlight the history of the area around the bus station – and to make the waiting area more attractive for bus passengers.
The six panels – each measuring 5m x 7m – feature historic photographs of Leicester landmarks that have been selected from the hundreds of images on the council's new Story of Leicester website.
High Street, Leicester Market, Leicester train station, the Clock Tower, Town Hall Square and the Haymarket Centre all feature in the bus station's new panels.
A brief history of each area is also included on each panel.
City Mayor Peter Soulsby said: "The Haymarket bus station is a major transport hub, with thousands of people passing through it each day, so it's important that we make sure it's a welcoming place.
"These panels help brighten up the space and give people something attractive – and interesting – to look at while they're waiting for their bus.
"Some excellent photographs from the Story of Leicester website have been chosen for this project and I hope people will enjoy this nostalgic look back at some familiar Leicester landmarks."
The bus station heritage panels cost around £13,000 to produce and install. 
Anyone interested in finding out more about Leicester's 2,000 years of history can find hundreds of photographs and dozens more stories on the Story of Leicester website.
The brand new site can be found at storyofleicester.info