Latest phase of Vaughan Way roadworks to begin
Published on Wednesday, June 13, 2018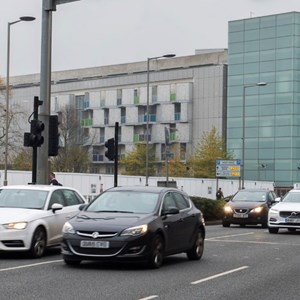 THE latest phase of improvement works at Vaughan Way is due to begin from this weekend.
Overnight from 6pm on Sunday, June 17, changes will be made to the junction of Vaughan Way and Highcross Street. Highcross Street will be closed near All Saints for one night only to allow works to take place.
The temporary signals which have been in use at that junction will move, along with changes to pedestrian crossings and some road markings.
There will be overnight lane closures while the work is carried out, though Vaughan Way and Highcross Street will remain open to traffic.
The left turn from Highcross Street into Vaughan Way which has been suspended since April, will reopen to traffic from Monday, June 18.
Pedestrians crossing at the junction will be able to use newly-installed traffic islands.
The road works are all part of an extensive investment and redevelopment scheme by developers Charles Street Buildings.
The scheme involves refurbishing and bringing back into commercial use the former Great Central Station as part of a wider £50million development of the Waterside area, including two new hotels, the creation of 35,000 sq ft of new office space and a new public realm open area, on the former Stibbe site on between Great Central Street and Vaughan Way.
It will also incorporate a new 'super-crossing' across Vaughan Way itself, improving connectivity between the city centre, the new developments and the city's Waterside area.
Leicester City Council is contributing £2.4million towards the highway work as part of the Connecting Leicester programme.
For more information visit www.leicester.gov.uk/vaughanway
(Ends)