Leicester pupil wins national writing prize
Published on Wednesday, June 20, 2018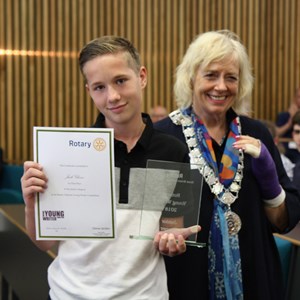 A YEAR six pupil from Stokes Wood Primary School in Leicester has won a national award for his writing.
Eleven-year-old Jack Glover has won the National Young Writers' Award from Rotary in Great Britain and Ireland.
Along with fellow pupils from Stokes Wood, in New Parks, Jack was encouraged to enter the Rotary Club of Oadby's writing competition and completed a story in his own time, working after school and at lunchtimes to create his winning tale.
Jack's story is entitled 'My Digestive Journey', and follows the travels of Gary the Grape as he makes his way through the human digestive system.
"It was a normal day, nothing out of the ordinary, when a human picked me from my bunch – I knew he wasn't very grapeful!" the story begins.
"After the most terrifying journey of my life, the human just wanted to get rid of me," it ends. "I feel totally crushed!"
Jack's entry won the Rotary District competition on his way to the national finals, where his entry was judged top from those out of all the 25 British and Irish Rotary District entries.
Jack, his family and his class teacher attended a presentation ceremony at De Montfort University on Saturday 16 June, at which it was announced he had won the national first prize.
Jane Gadsby, head teacher at Stokes Wood Primary, said: "What a great achievement this is – for Stokes Wood, for New Parks and for the city of Leicester as a whole. We're delighted Jack has been rewarded for all the hard work he has put in to create such an original and well-crafted story."
Cllr Sarah Russell, deputy city mayor responsible for children, young people and schools, said: "Huge congratulations to Jack for coming up with such a great idea and, quite rightly, being rewarded for it. What this shows is a demonstrable love of reading and writing that has inspired Jack to create something really special in his own free time. It's great to hear about our pupils being inspired in this way."
Terry Gooding from the Rotary Club of Oadby said: "Our hearty congratulations to Jack in achieving this outstanding National Rotary award and to headteacher Jane Gadsby, who has been totally supportive with the Rotary Club of Oadby in helping and stimulating her pupils in this competition, supported by her teachers at Stokes Wood.
"Creative writing is a talent to be celebrated and to be able to write effectively is a special gift. In Great Britain and Ireland there are local Rotary Clubs who will support young people who wish to develop their writing skills through the Rotary Young Writer competition as well as many other skills and activities. Please contact your local Rotary Club for information."
The Rotary Club website is at www.rotarygbi.org
(ends)