Make some mischief with Dennis the Menace for the summer reading challenge
Published on Friday, June 29, 2018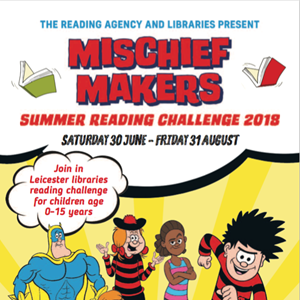 DENNIS the Menance, Minnie the Minx, Bananaman and other comic-book favourites are encouraging Leicester children and young people to keep up with their reading over the long summer holidays.
Dennis and co – known as the Mischief Makers – are teaming up with Leicester Libraries for this year's summer reading challenge, as 2018 marks the 80th anniversary of the Beano.
They'll be descending on city libraries from Saturday 30 June to herald the start of the annual scheme, which is open to anyone aged 0-15.
All you have to do to take part is visit your local library, children's centre or the Bookbus and read six books, anytime between 30 June and 31 August.
Participants get a free reading pack on their first visit and then a series of free rewards including stickers, a wristband, finisher's medal and certificate.
Younger children can choose books to share too, collecting stickers and being rewarded with a golden sticker when they complete their challenge.
Launch events on 30 June will run from 11am-3pm in most city libraries, and from 11am-1pm at Beaumont Leys Library, New Parks Centre, Rushey Mead Library and Pork Pie library and community centre. There will be the chance to track down Beano characters hidden around the libraries and borrow your first books for the scheme.
The BookBus will also welcome visitors to Town Hall Square on 30 June, from 11am-3pm. Drop in for storytelling and activities from Dave Stickman Higgins, an artist with the Spark Arts for Children.
The reading challenge also includes a competition for city schools. The school with the highest percentage of pupils who complete the challenge will win a special performance and workshop from the Spark Arts for Children.
And for the first time this year, whole families can take part in the challenge. Massive Mischief has been set up to show children that reading is great fun for all, and means parents and carers can also commit to reading six books over the summer. Participants will get a certificate and an entry into a free book draw.
Later in the summer, as part of the reading challenge, there will be themed Big Family Fun days in libraries across the city. There will also be a free big fun day at Curve on Wednesday 15 August, with performances, workshops, readings and activities.
Plus, between 16 and 21 July, there'll be an opportunity to experience live theatre in nine local libraries and community venues, thanks to a partnership with the Spark Arts for Children and a fantastic family show called The Ginger Bread Man, full of storytelling, music and fun.
Cllr Kirk Master, assistant city mayor responsible for neighbourhood services, said: "It's very important that we offer free activities for children in our neighbourhoods over the long summer break. The summer reading challenge is a great initiative for families to get involved with.
"Thousands of children take part each year, and this year there's the chance for whole families to get involved and join in the challenge together."
Cllr Sarah Russell, deputy city mayor responsible for children, young people and schools, added: "We want children to read for pleasure and enjoy their summer reading, which is why this challenge is so popular – it rewards children for reading anything they love. The activities and incentives we offer as part of the scheme are the perfect way of encouraging regular reading.
"Evidence shows that children who continue to read over the summer do better when they go back to school in September."
The summer reading challenge is a national initiative organised in partnership with the Reading Agency. For activities, games and the chance to read about popular authors, go to summerreadingchallenge.org.uk
To join the library or find out more about Leicester's libraries, visit leicester.gov.uk/libraries
You can also keep up to date with all the summer reading scheme news and events at facebook.com/leicesterlibraries or on Twitter @leicesterlibrar
(ends)