New park mural to celebrate bug life
Published on Monday, June 25, 2018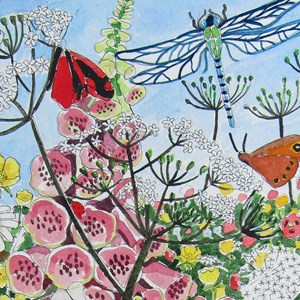 WORK on a giant mural that will be inspired by bugs, butterflies and bees will get under way in Leicester's Abbey Park this week.
From today (Monday 25 June), local artist Kirsty Whitrow will start preparing the site for her colourful mural that will celebrate the insects that pollinate our plants.
The giant artwork is part of the city council's partnership with Urban Buzz – a project that's creating important new habitats for bees, butterflies and other pollinating insects at sites around Leicester.
Nectar-rich flowers and wildflowers will be planted in the area around the mural as part of the scheme.
Deputy city mayor Cllr Piara Singh Clair said: "This new mural will be an attractive new feature at the main entrance to Abbey Park.
"It will take the artist a few days to prepare the site, but anyone visiting the park from next Monday (2 July) will be able to see her at work and watch the mural take shape."
The 7m x 4m artwork – close to the main car park on Abbey Park Road – will replace a mural that was created to mark the London Olympics in 2012 but which is now faded and wearing away.
The £3,000 project is supported by the Friends of Abbey Park, the Art Department, and environmental charity Bug Life.