Place at Westminster exhibition for Leicester's suffragette
Published on Wednesday, June 27, 2018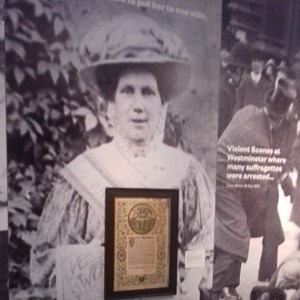 A NATIONWIDE programme of events to mark the centenary of the first British women getting the vote continues today (27 June) with the opening of a major exhibition in London.
'Voice and Vote: Women's Place in Parliament' traces the history of women in parliament and includes the story of Leicester's own suffragette, Alice Hawkins – the shoe factory machinist who led the women's suffrage movement in Leicester in the early 1900s.
Items belonging to Alice, including her 'Votes for Women' sash, her hunger strike medal and a letter of commendation signed by Emmeline Pankhurst, are amongst the exhibits on display at the exhibition at Westminster Hall.
The exhibition also features rare and previously unseen historic objects, pictures and archive material from the Parliamentary collections.
'Voice and Vote: Women's Place in Parliament' continues in Westminster Hall until 6 October 2018.
Admission is free of charge, but places must be booked in advance online or by calling 020 7219 4114.
School parties are also welcome and – on most days – visits to the exhibition can be combined with a tour of the Houses of Parliament (fee payable).
Anyone unable to visit the exhibition in London will also be able to see memorabilia from Alice Hawkins' life at Leicester's New Walk Museum from the end of October.
'Alice Hawkins and Votes for Women' opens to the public on 27 October and runs until 24 February 2019.
As well as items that will help tell Alice's story – kindly loaned by members of Alice Hawkins' family – the exhibition will also show how the suffrage movement crossed social boundaries and brought women from all backgrounds together.
Deputy city mayor and heritage champion Cllr Adam Clarke said: "This UK-wide year of events commemorating the centenary of the Representation of the People Act started here in Leicester with the unveiling of the statue of Alice Hawkins.
"It's great that Leicester and Alice remain on the national stage at this prestigious exhibition at Westminster, before our own exhibition at New Walk Museum brings Alice's story back to Leicester."
A number of Alice Hawkins' possessions, including her Holloway brooch – designed by Sylvia Pankhurst and awarded to members of the Women's Social and Political Union who were imprisoned for the cause – will be loaned to New Walk Museum by Alice's great-grandchildren.
Peter Barratt – Alice's great-grandson – said: "There's been a huge amount of interest in my great-grandmother during this centenary year.
"I've been sharing her story with children at schools across the city and county, but these exhibitions in London and Leicester will take Alice's story to an even wider audience.
"Members of the family are very happy to loan out these items, which we hope will give people a better understanding of an ordinary Leicester woman who played her part in a truly extraordinary movement."
Events commemorating the 100th anniversary of women's suffrage are being supported in Leicester by the Government's Centenary Cities fund.
The Government awarded the city a grant of £189,500 to fund educational and celebratory events inspired by the life and work of Alice Hawkins.