Re-signing our Armed Forces Covenant
Published on Wednesday, June 6, 2018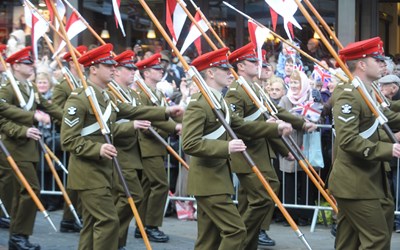 On 23 June, we will be resigning the Armed Forces Covenant. This is a document which affirms Leicester's commitment to the armed forces, the men and women who serve in them, and their families.
The covenant sets out our relationship with the armed forces - how the council provides services for current- and ex-service personnel and their families, and how we ensure they have fair access to jobs, training and housing. It recognises the commitment and sacrifice made by those involved with the armed forces, and highlights our efforts to help integrate armed forces communities into local life.
Adjustment to civilian life can sometimes be difficult for former members of the forces. We will ensure that priority is given to armed forces personnel within our housing allocations policy; that they have additional rights when finding school places for their children; that the health needs of veterans are taken into account by our local NHS; and that other services meet specific needs of armed forces personnel as they arise.
All of our customer service staff are fully aware of our commitment to the armed forces covenant, so any forces member or veteran should feel confident when attempting to access our services. We also support the Covenant Fund - a central government-run scheme that backs projects designed to benefit the armed forces and local communities. The fund's priorities for the next year include digital development and the commemoration of the centenary of World War I.
You can find more information about the covenant on our armed forces covenant web page. For any further enquiries, please email us.
National Armed Forces Day takes places on 30 June. Find out more at the Armed Forces Day website.