Saddle up for Bike Week
Published on Thursday, June 7, 2018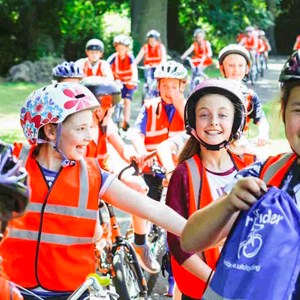 PEOPLE are being invited to celebrate National Bike Week by riding Leicester's cycle circuit for free.
Bike Week, from 9-17 June, is a UK-wide annual promotion led by Cycling UK. It's being celebrated in Leicester by the city council and partners with Bike Fest –­ which includes a free, family-friendly try-out session at Leicester Cycle Circuit on 9 June.
The aim of the week is to encourage and promote everyday cycling for everyone.
Bike Fest also includes Let's Ride, a new coaching and training initiative led by British Cycling and HSBC UK. There will also be junk-art bikes on display from Cyclone Works, Wheels for All adapted bikes and a range of e-bikes for people to try.
And ride leaders will be on hand to tell people about other cycling opportunities in Leicester and Leicestershire.
Bike Fest takes place from 12.30-3.30pm at the purpose-built cycle circuit at New College in Leicester. It's part of a regular schedule of pop-up Let's Ride events at the circuit, which take place monthly.
Bike Week is just the beginning of a summer of cycling in Leicester. At the start of July, hundreds of primary schoolchildren will take to their bikes for the annual Schools' Ride. It's a mass bike ride into the city, where children get the chance to put the skills into practice they have learned during Bikeability cycle training sessions at city schools.
Open Streets, on the last Sunday of each month, is a celebration of traffic-free streets staring from Leicester's new Market Square. Join a free, family-friendly cycle or walking tour of the city, exploring Leicester's unique urban heritage.
The Ride Leicester festival, from 11-26 August, is a packed two-week celebration of all things cycling, kicking off with the fast and furious Castle Classic cycle races. On 12 August, spectators will line Leicester's streets to watch elite cyclists compete in this exciting kermesse-style road race, with a route that takes in Mile Straight, the King Power stadium and the Leicester Castle area.
Later the same day, people get the chance to take to traffic-free streets themselves for a mass cycle ride through the city centre. The mass ride – called HSBC UK Let's Ride Leicester – is free and open to all, with a route lined with bike-themed events and activities.
Deputy city mayor Cllr Adam Clarke, who leads on environment and public health, said: "Bike Week heralds a busy summer of cycling in Leicester, kicking off with a chance for people to ride the Leicester Cycle Circuit for free. The circuit is a great facility, offering people the chance to ride at their own pace without worrying about traffic.
"Later on in the summer, there's the City Ride and Castle Classic to look forward to.
"We share Cycling UK's aim of encouraging everyday cycling, which is why we're determined to make it as easy as possible for people to cycle around the city. We're investing in the infrastructure that will make cycling more accessible for people, so that they feel confident they can make a journey by bike."
To find out more about Bike Week, visit bikeweek.org.uk
To find out more about regular Let's Ride events, visit letsride.co.uk
To find out more about Leicester's summer of cycling, search 'cycling' at visitleicester.info
(ends)