Riverside Festival 2018
Published on Tuesday, May 1, 2018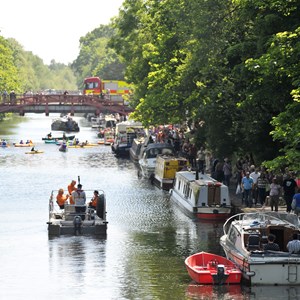 LEICESTER'S Riverside Festival will take place on Saturday 2 and Sunday 3 June. With free events for the whole family to enjoy, this is an event not to be missed.
Further information
Taking place on Bede Park, Mile Straight, Western Boulevard and Castle Gardens, the festival features stalls, food and activities for the whole family.
Last year's festival was attended by over twenty thousand people, and featured live music, world food, boat trips and displays.
The River Soar is one of Leicester's most historic locations and acts as the festival's centrepiece for the weekend. Once Britain's most profitable commercial navigation route, it also boasts beautiful scenery and wildlife.
Do you own a canal boat?
if you own a canal boat, and would like to join in the fun, why not take advantage of free mooring for all non-commercial boats? Part of what makes the festival special is the colourful spactacle of narrow boats and vessels of all shapes and sizes, bringing charm to this stretch of the waterway. To register you boat for the festival, please email festivals@leicester.gov.uk
See what people got up to over the weekend at last year's festival on our Facebook photo album.