'Considerate cyclists welcome' signs to go up in city centre
Published on Wednesday, November 7, 2018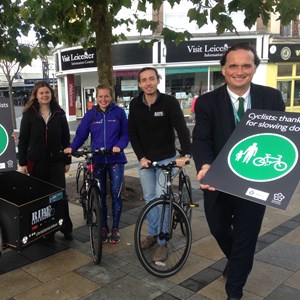 NEW signs are going up around Leicester as part of a safer cycling campaign.
The signs share the message that considerate cyclists are welcome in the city centre, and will be placed at key points throughout the pedestrianised zone, as well as at entrance points to the pedestrianised area.
They say 'considerate cyclists welcome' and 'cyclists: thank you for slowing down.'
The aim is to remind bike users to cycle responsibly, as well as to make sure anyone who uses the city centre is aware that the space is shared between pedestrians and cyclists.
The city council's Choose How You Move and Ride Leicester teams will be joining forces with British Cycling and Sustrans to offer some free activities in Humberstone Gate on 8 November. These will include a Dr Bike free bike check, with free cycle security kits and lights available, plus advice on cycle safety.
Ebike Centres will offer free cycle maintenance checks and advice on electric bikes, while British Cycling will share information on cycle coaching, training and guided rides.
Staff from the city council's walking and cycling team will be providing information on Choose How You Move, which provides advice on all elements of active travel and public transport.
Deputy city mayor Cllr Adam Clarke, who leads on environment and health, said: "We want to encourage people to travel to the city centre by bike, on foot or using public transport and once they are here, our large, people-friendly pedestrianised zone gives priority to people ahead of vehicles.
"Bikes are welcome in our pedestrianised zone too, but obviously we ask that cyclists show consideration to people on foot. These signs and our safer cycling campaign are a simple, straightforward reminder of that message.
"Our ongoing Connecting Leicester programme aims to create people-friendly streets that link the city's retail, heritage and cultural destinations more effectively, so that it's easier than ever to leave the car at home and choose a more sustainable, environmentally-friendly form of transport."
Jonathan Clarkson, spokesperson for the Leicester, Leicestershire & Rutland Road Safety Partnership said: "We fully support this initiative. It is important that all road users respect everyone's journey. I would remind cyclists and pedestrians of the simple things they can do to help improve safety in the city centre: look around, be aware, be considerate and travel with less haste."
Katie France, Leicester project co-ordinator for the walking charity Living Streets said: "Cycling on pavements can make pedestrians feel vulnerable – especially those who are visually impaired, suffer hearing loss or have mobility issues.
"These signs will help remind all road users that this is a shared space and should ensure people can walk in safety and comfort."
Statistically, there are very few accidents that involve pedestrians and cyclists – there were only 12 officially reported in Leicester in the last five years. There were 739 injuries between cyclists and vehicles during that time, and 958 between pedestrians and vehicles.
The city council also runs regular Bikeability training sessions to help people improve their cycling skills, training more than 2,000 young people and 70 adults per year. The Bikeability scheme includes teaching cyclists how to take particular care when riding near pedestrians, especially vulnerable pedestrians with physical, sight or hearing impairments.  
To find out more about cycling in Leicester, visit www.leicester.gov.uk/cycling
(ends)