Council launches tree strategy in National Tree Week
Published on Monday, November 26, 2018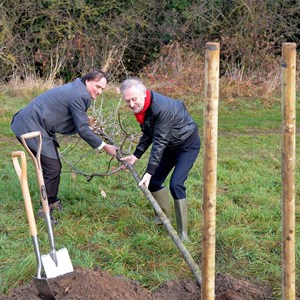 A MAJOR new plan that will guide the management of Leicester's 'urban forest' over the next five years has been launched in the city today (26 November).
The city council's new tree strategy sets out its commitment to maintaining and replenishing its tree stock, while encouraging other landowners to plant trees too.
It also reaffirms the council's existing policy of planting more than one tree to replace any tree that is lost – and recognises the important role that trees play in reducing air pollution, supporting wildlife and mitigating the impact of floods.
City Mayor Peter Soulsby marked the launch of the new tree strategy, and the start of National Tree Week, by joining deputy city mayor Cllr Adam Clarke at Castle Hill Country Park to plant an oak tree – one of around 500 new trees that the city council will be planting in Leicester this winter.
"National Tree Week provides us with the perfect opportunity to launch the strategy that will guide the way we manage and replenish Leicester's urban forest," he said.
"Since the 1980s, and thanks to sustained investment over the years, the city council has planted more than 57,000 trees – which means that almost 16% of Leicester is now covered with trees.
"Effective tree management includes planting new trees to replenish our tree stock, but it also means cutting back, thinning out or sometimes removing trees.
"The work at Victoria Park and De Montfort Hall has shown how the carefully considered removal and replacement of trees can have a huge impact on making an area more welcoming and attractive.
"This strategy sets out our commitment to increasing the number of trees in the city council's ownership and ensuring that the quality of our tree stock continues to be improved."
Deputy city mayor for the environment Cllr Adam Clarke said: "Trees are of huge value in our city, bringing environmental and ecological benefits and vastly improving the look of our streets, parks and open spaces.
"We're very fortunate in Leicester to have an exceptional trees and woodlands team, who do a brilliant job, managing and maintaining the trees in our parks and on our streets.
"With this new strategy – which will guide the management of the city's trees and woodlands over the next five years – we can be assured that the city's urban forest is in good hands for future generations to cherish and enjoy."
Leicester City Council spends around £2million every year on managing the city's trees and woodlands. Around a third of this is from income generated from contract work carried out by the council's trees and woodlands team for other clients.
Tree canopy covers around 1,200 hectares in Leicester, with the city council owning around 150,000 individual trees. This includes trees in parks and open spaces (80,000), on highway verges (20,000) on housing estates (21,000), within the grounds of schools (16,000) and in community facilities and other council buildings (13,000). In addition, the council owns 107 hectares of woodland.
Leicester City Council's new tree strategy is available to download at leicester.gov.uk/treestrategy
Photo caption: City Mayor Peter Soulsby and deputy city mayor Cllr Adam Clarke plant an oak tree at Castle Hill Country Park to mark the launch of the city's new tree strategy in National Tree Week