Council takes on 27 new tradespeople after successful apprenticeships
Published on Monday, November 5, 2018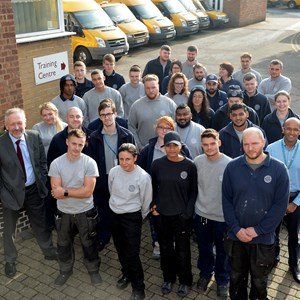 TWENTY-SEVEN apprentices have secured permanent positions with the city council after learning a range of craft trade skills.
They will now work in the housing department, carrying out repairs and maintenance on the council's stock of 20,600 council homes.
And a new crop of 15 apprentices has just joined the division as part of this year's apprenticeship programme.
Working in partnership with Leicester College, these craft apprentices will learn a range of trade skills, enabling them to carry out general repairs and maintenance tasks in council tenants' homes. They will learn property maintenance skills including plastering, bricklaying, electrics, plumbing and carpentry.
Cllr Andy Connelly, assistant city mayor for housing, said: "It's great news that we've been able to offer 27 apprentices permanent positions with us, as well as taking on 15 new apprentices.
"It makes perfect sense for us to develop our own trained and skilled talent pool to work on our council houses, and it's a scheme that has been running successfully for many years."
City mayor Peter Soulsby added: "Schemes like this one are an important part of our local jobs economy and are something we are proud to invest in. They provide opportunities for local people to learn a skilled trade.
"We're particularly proud of our Women In Construction initiative, which encourages diversity in a traditionally male-dominated industry. Seven of the 27 apprentices who secured the permanent positions this year are women and six of the 15 new apprentices are women.
"We also provide apprenticeship opportunities for children in care as they enter the workplace. This year, after successfully completing their apprenticeship programmes, two people from a care background secured a permanent position with us."
To find out more about apprenticeship opportunities at the city council, visit www.leicester.gov.uk/jobs
(ends)