Diwali Day celebrations to illuminate Golden Mile
Published on Monday, November 5, 2018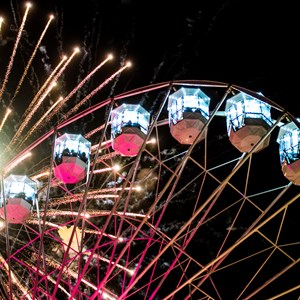 LEICESTER'S dazzling Diwali celebrations will reach their peak this week with the spectacular festivities marking Diwali Day.
The event takes place on Wednesday, November 7, when Cossington Street Recreation Ground will host a programme of events aimed at all ages from 3pm to 9pm.
A Diwali Village will bring the best in Asian arts, crafts and culture with a programme of stage entertainment from 6pm to 8.30pm.
A spectacular aerial fireworks display will light up the skies above the Golden Mile at about 8.10pm, in a stunning finale of colour and sound.
Visitors will also be able to ride in the 110-foot Wheel of Light – a huge, illuminated Ferris wheel – giving breathtaking views over the city.
As part of the Diwali Day events, Belgrave Road will be closed to traffic from 5pm until 9.30pm when the festivities have ended.
Buses will be running from Birstall's Park and Ride hub, departing from Birstall roughly every 10 minutes between 4pm and 8pm. The return service will depart from Abbey Park Street at regular intervals from 8.30pm to 10pm.
Parking in Belgrave itself will be very limited, although there will be pay and display parking about 15 minutes' walk away at the NCP in Abbey Street, the Haymarket or Lee Circle.
Diwali Day will be the culmination of a programme of events which has run since the Diwali Lights Switch-On event on Sunday, October 28, in which tens of thousands of people regularly flock to Belgrave Road to see the lights illuminated.
A programme of related events is also taking place in venues across the city.
The Diwali Mela Bazaar takes place in the city centre on Saturday, November 3, with live music and dance, food, fashion, shopping and other entertainment from 10am until 5pm.
On the same day, visitors to New Walk Museum and Art Gallery will be able to enjoy Diwali-themed family fun, including story-telling, Indian dancing and traditional arts and crafts from 11am until 3pm.
That evening, Leicester Cathedral hosts performances of Indian Classical Music. The event runs from 7pm until 8.30pm and tickets cost £10.
An artist will be creating traditional Indian geometric rangoli art at Highcross Shopping Centre, on Sunday, November 4, from 11am until 4.30pm.
The stunning 'Museum of the Moon' touring exhibition, featuring a large, detailed model of the moon, will run at Belgrave Neighbourhood Centre until Wednesday, November 7, suspended above the centre's ever-popular Rangoli exhibition.
In addition to the main Diwali Day events on Cossington Street Recreation Ground, nearby Limekiln Lock on the Grand Union Canal will play host to a variety of illuminated canal boats, from 6pm to 9pm.
The Wheel of Light will be in operation until Sunday, November 11, after which it will be dismantled in preparation for its move to Jubilee Square as part of the city's programme of Christmas festivities.
Leicester deputy city mayor for culture and leisure, Cllr Piara Singh Clair, said: "Diwali Day is a always a very popular occasion, with events for families and visitors of all ages, and this year looks set to continue that.
"The Museum of the Moon, on display in the heart of Belgrave, has been a stunning addition to this year's events, and these Diwali Day festivities will bring to a close over a week's worth of activities."
Full details of all Diwali events is available in the Diwali 2018 brochure, available from the Visit Leicester office in Gallowtree Gate, or at www.visitleicester.info
Traffic and travel information is available from Area Traffic Control on Twitter via @ATCLeicester
(Ends)