Experts to survey Abbey Park's historic walls and ruins
Published on Thursday, November 29, 2018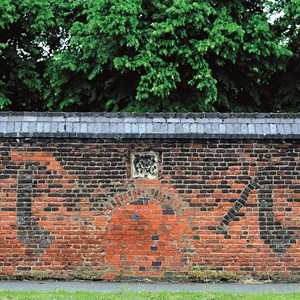 AN expert survey of Abbey Park's 'hugely significant' historic walls and remains of Cavendish House is being carried out.
Leicester City Council has commissioned the survey to gain a detailed understanding of the condition of the walls and Cavendish House ruins and help establish a long term plan for their maintenance and conservation.
The work is backed by £38,000 of funding from Historic England. 
The Grade I-listed Abbot Penny's Wall dates back to around 1500 and runs along the north and west sides of the park. The section running along St Margaret's Way, is thought to be one of the earliest examples of medieval brickwork in the country.
Cavendish House was built from the ruins of Leicester Abbey in the early-1600s and originally owned by William Cavendish, first Earl of Devonshire. The house was used by Charles I after the siege of Leicester during the English civil war in 1645. Upon leaving, his soldiers torched the building and the charred stone window frame is still visible today. The remains of the building are Grade I-listed.
The city council last year began a long-term programme of essential repair work to the ancient abbey precinct wall, which stands inside the park between the abbey ruins and the River Soar. The wall was identified as being at immediate risk of failure due to damage caused by nearby trees. The area has now been cleared and the wall braced with scaffolding, and repair options will be developed as part of the survey work.
City Mayor Peter Soulsby said: "Abbey Park is steeped in history and one of the city's real treasures. It is vital that we continue to protect and cherish the ancient structures within this beautiful park and we take that responsibility very seriously.
"We are very grateful to Historic England for their support with this latest phase of work. The survey findings will allow us develop a detailed plan for the maintenance and restoration of these important heritage assets, ensuring that they are protected for future generations of visitors to enjoy."
Ben Robinson, East Midlands Heritage at Risk Principal at Historic England, said "Historic England is very pleased to support the city council in this work.
"The precinct walls and Cavendish House are hugely significant. The detailed assessment of masonry will enable the prioritisation of repairs and, ultimately, their removal from the Heritage at Risk Register."
The survey is expected to take around three to four weeks to complete.