Make a reindeer at park's creative Christmas workshop
Published on Tuesday, November 27, 2018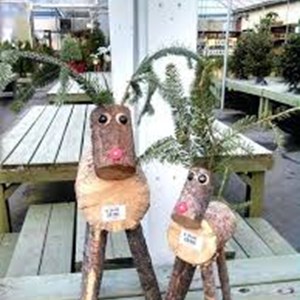 A CREATIVE Christmas workshop will be taking place at Leicester's Abbey Park next week, in aid of the Lord Mayor's chosen charity.
The event, which will be attended by the Lord Mayor, Cllr Ross Grant, is open to everyone and will see logs and wood from the council's parks used to create cute Christmas reindeer – ideal as a garden ornament or festive gift.
The event takes place on Friday 7 December from 9.30am-12.30pm at Abbey Park Education Centre.
Participants are asked to make a donation of £5 per reindeer, with the money going to the Lord Mayor's appeal for the Laura Centre, which helps bereaved families.
If you make more than one reindeer at the event, you can take one home and donate any 'extras' to a charity reindeer sale, which will take place at Victoria Park (lodge 2), on Monday 10 December. The reindeer will be on sale to the public for £8 each, from 9am-1.30pm.
To book onto the workshop, email lev@leicester.gov.uk with your name, address and telephone number.
The reindeer will be made from recycled logs, foliage and wood that has fallen from trees or been removed as part of the council's sustainable management of trees and woodland areas.