Parks' new defibrillators are powered by renewable energy
Published on Tuesday, November 20, 2018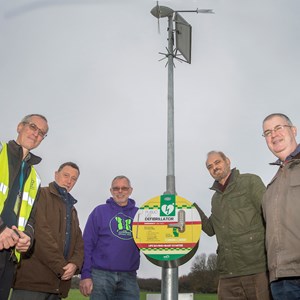 THREE new defibrillators powered by renewable energy have been installed at city parks.
The defibrillators – two at Castle Hill Country Park and one at Jesse Jackson Park – each have a solar panel and wind turbine to provide the power needed to keep the defibrillators in top condition.
Public-access defibrillators are usually situated in a cabinet to keep them safe and protect them from the elements. While defibrillators are powered by long-life batteries, the cabinets typically need a power supply to keep them warm and dry. Without this, the defibrillators can be damaged by cold or condensation.
Because of the need for a power supply, defibrillator units are often situated on the wall of a clubhouse or park building and can be scarce in more open areas. A renewable power unit can get round this problem, using solar or wind energy to keep the defibrillator warm and dry.
The new defibrillators complement a solar-powered unit that was installed in Bennion Pools nature area earlier this year and was the first of its kind in the city. Overall, there are 31 defibrillators located in 23 city parks and open spaces, as part of Leicester City Council's Heart Friendly Parks initiative.
Deputy city mayor Cllr Piara Singh Clair, who is responsible for culture, leisure and sports, said: "We have set aside £65,000 from our capital budget in an ongoing project to make defibrillators readily available in all of our parks and open spaces, because we're committed to making our parks as 'heart safe' as possible. These defibrillators show that a lack of nearby buildings need not be a barrier to providing potentially life-saving equipment for people to use in an emergency."
Deputy city mayor Cllr Adam Clarke, who leads on public health and the environment, added: "We're leading the way nationally by installing this sort of technology. Someone providing cardiopulmonary resuscitation (CPR) and quick access to a defibrillator when needed can mean the difference between life and death."
The council's parks department also runs several free courses a year, open to anyone who would like to learn CPR and how to use a defibrillator. The courses are run in conjunction with local heart charity the Joe Humphries Memorial Trust (JHMT).
Dr Mike Ferguson from JHMT said: "There are around 60,000 out-of-hospital cardiac arrests a year in the UK, half of which are witnessed, often by family and friends. The survival rate is less than 10%.
"If CPR is started immediately, done effectively ­– by a trained person with the victim lying flat –and a defibrillator can be got to the victim within eight minutes, the majority of people could be saved.
"With cardiac arrest, it is better for a bystander to do something than to do nothing."
To book on to a free CPR training course via the city council's parks team, call 0116 454 5004 or email parks@leicester.gov.uk
(ends)