Stunning images released of Leicester's Arch of Remembrance
Published on Friday, November 9, 2018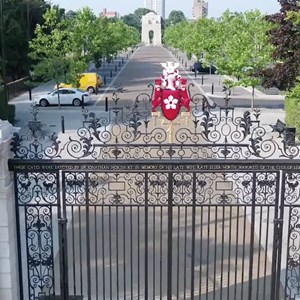 STUNNING aerial images of Leicester's historic Arch of Remembrance, and Centenary Walk have been released by Leicester City Council.
As part of the city's preparations to mark the centenary of the end of the first World War, the council has carried out extensive restoration work to the Grade 1 listed memorial – the end results of which have been captured by a camera drone.
Located on Victoria Park, the Arch of Remembrance will be the backdrop to the city's annual Remembrance Service on Sunday 11 November.
The arch was designed by renowned architect Sir Edwin Lutyens, and unveiled in 1925. It is one of seven grade-1 listed war memorials designed by Lutyens, including the Cenotaph in Whitehall.
Lutyens also designed the park lodge buildings and ornate, wrought iron gates on London Road, along with the matching gates at the entrance to Peace Walk. Both sets of gates have been painstakingly repaired and restored as part of a £295,000 scheme supported by the Heritage Lottery Fund. 
The drone footage also shows the new Centenary Walk, which was commissioned by the city council and completed last year as part of a £2milllion Victoria Park improvement project.   
Leicester City Mayor Sir Peter Soulsby said: "The war memorial on Victoria Park is one of Leicester's finest architectural treasures, and something the whole city can be proud of.
"Sunday's service of remembrance will be the first time we use Centenary Walk for the purpose for which it was designed and I am very pleased that on this important day we have been able to ensure that the monument and memorial gates are looking at their very best."
The footage can be seen at youtube.com/leicestercouncilnews
The Remembrance service will be led by Right Reverend Martyn Snow, Bishop of Leicester. It will include a two-minute silence, starting on the stroke of 11am. Maroons will sound to mark the beginning and end of the silence. More details are available here