Volunteers get to work to mark Inter Faith Week
Published on Friday, November 16, 2018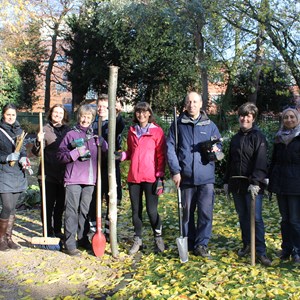 CITY council staff have been joining in with volunteering activities and events to mark Inter Faith Week.
Inter Faith Week, which runs from 11-18 November, aims to celebrate the contributions that different faith communities in the UK make to their neighbourhoods and to wider society.
Members of Christian and Muslim groups at the council joined together to take part in an environmental challenge at Abbey Park, organised by Leicestershire Cares, where they helped to improve the park's sensory garden.
Leicestershire Cares is a local organisation which links businesses and employees with volunteering opportunities.
The week has also been marked at the Madani schools in the city, which hosted an inter-faith awareness morning with representatives of different faiths answering students' questions.
Cllr Manjula Sood, assistant city mayor responsible for communities and equalities, joined volunteers at the Methodist Church on Bishop Street for an arts and crafts workshop.
Participants created artwork and calligraphy using patterns and images that represent their faith.
Cllr Sood said: "Inter Faith Week focuses on increasing understanding and co-operation between people of all faiths and those with other beliefs.
"In a diverse city like Leicester, we are proud to welcome people from lots of different backgrounds and communities. It's what makes our city special, and Inter Faith Week is an ideal chance to celebrate this."
To find out more about Inter Faith Week, visit www.interfaithweek.org
(ends)
Picture shows city council staff at the volunteering challenge at Abbey Park