War memorials restored as part of city's Armistice commemorations
Published on Monday, November 5, 2018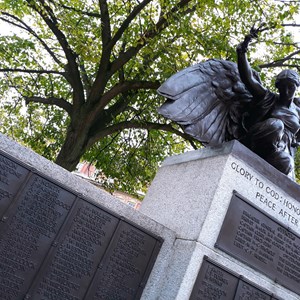 WORK to restore every war memorial in Leicester has been completed as part of a programme of events, activity and investment to mark the centenary of the First World War and Armistice Day.
Leicester City Council has been working with a range of national organisations to ensure that memorials across the city are expertly repaired, cleaned and conserved for future generations.
A £7,000 grant from the War Memorials Trust – which is supported by the Government's First World War Memorials Programme and Historic England – has helped fund the repair and conservation of three community memorials.
Aylestone War Memorial, the Leicester South African (Boer) War Memorial in Town Hall Square, and the First World War memorial at Wyggeston and Queen Elizabeth I College have all benefitted from expert restoration work.
Masonry has been repointed, plinths and paving has been repaired, metalwork has been restored and inscriptions have been repainted and re-gilded where required. All the memorials have been also professionally deep-cleaned.
Work to these three memorials cost around £10,000, and was part-funded by the city council.
City council conservation officers have also worked with the Commonwealth War Graves Commission to restore the 'Cross of Sacrifice' war memorials at Welford Road and Gilroes cemeteries. Both memorials have undergone minor repairs, repointing and specialist treatment to remove staining to the limestone.
The city council has previously carried out work with specialist conservation contractors to renovate community war memorials at Bridge Road, Evington Village and St George's Churchyard.
It has also recently completed a £100,000 project to clean and restore the city's main war memorial – the Arch of Remembrance on Victoria Park – in preparation for the city's annual Remembrance Day service and parade.
The Sir Jonathan North memorial gates at Victoria Park have also been painstakingly repaired and restored as part of a £295,000 scheme supported by the Heritage Lottery Fund.
Cllr Adam Clarke, deputy city mayor and the council's heritage champion, said: "A huge amount of work has gone into this citywide programme of work to renovate, restore and conserve all of our war memorials as part of Leicester's commemorations of the centenary of the First World War.
"We are very grateful for the support we've received from the War Memorials Trust, Heritage Lottery Fund and Commonwealth War Graves Commission. 
"These memorials have an important place in our communities and we share a duty to ensure that they are cherished and conserved for future generations."
All of the community war memorials across Leicester are now grade-II listed. The Arch of Remembrance on Victoria Park is one of seven grade I-listed war memorials designed by Edwin Lutyens. This includes the Cenotaph in Whitehall, London.