Ward funding boost for 'The Brass of the Saff'
Published on Wednesday, November 21, 2018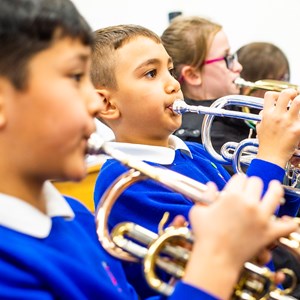 A CROWDFUND campaign to help buy new instruments and uniforms for a youth brass band has had a boost, thanks to backing from ward councillors and Leicester's City Mayor.
'The Brass of the Saff' is a community band for young brass players based in the Saffron Lane area of the city.
Its organisers Drum and Brass are aiming to raise just over £7,000 through the CrowdFund Leicester platform to help the project grow and attract new members into the band.
The cash will buy 60 new instruments and uniforms, increase the number of awards and opportunities available through the project, and help produce a CD of the band's music in 2019.
The band – which practises at Marriott Primary School – has already seen its crowdfund  appeal attract 80 backers who have pledged over £1,200 in support so far.
Now, Saffron councillors have also offered their backing with an award of £2,250 from the ward community fund.
This will help buy 30 new plastic cornets, a lightweight instrument that is similar to a trumpet and ideal for beginners.
It's the first time ward community funding has been used to back a CrowdFund Leicester appeal.
Ward councillor Elly Cutkelvin said: "This is a really exciting way to attract funding for local projects in our wards, and a great way for community to feel involved. The opportunity this particular group provides for local kids is brilliant – a fun chance to learn an instrument and develop new skills.
"We've heard them play and they sound fantastic!"
Cllr Bill Shelton added: "As councillors for the Saffron ward, we are only too pleased to help this project bring the joy and satisfaction of learning to play music to even more local children. Good luck to them in their endeavours."
City Mayor Peter Soulsby has also pledged to support the appeal with a pledge of £2,000 from his community engagement fund.
He said: "The Brass of the Saff is exactly the sort of campaign that CrowdFund Leicester was set up to support.
"Offering community engagement funding will complement their crowdfunding and help this fantastic appeal towards its target.
"By working together with the community in this way, we can ensure that council funds make a big difference to people's lives."
Julie Maxwell, project manager at Drum and Brass, said: "The support for The Brass of the Saff appeal has been fantastic and we're really grateful to have received so many generous pledges.
"It's a great project that is being driven by local families and young people.
"We've already had a brilliant experience at the National Youth Brass Band Championships in April. After just a few months of practice, and against some of the best bands in the country, we came home with an award for band showing the most potential.
"We want to build on that and make the youth brass band a permanent fixture in the community. It's such a great channel for the considerable talent in the area that might otherwise go unnoticed."
The city council last year teamed up with crowd-funding organisation Spacehive to launch CrowdFund Leicester.
To pledge support for 'The Brass of the Saff' appeal – which is due to run until 30 November – visit www.spacehive.com/the-brass-of-the-saff
All city wards are allocated an annual ward community fund of £18,000 which can be used to support projects that bring benefits to the local area.
[Ends]