Wreaths commemorate sacrifices of Indian Labour Corps
Published on Friday, November 9, 2018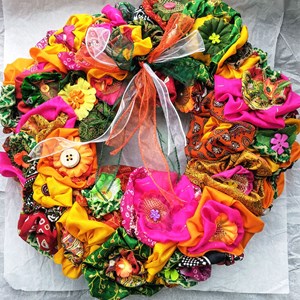 WREATHS made from recycled sari fabric will be laid at Leicester's Arch of Remembrance on Sunday to remember the Indian Labour Corps of the First World War.
The colourful wreaths have been made by local communities in Leicester to remember the contribution the Indian Labour Corps made to the war effort.
They will be laid at the Victoria Park war memorial on Sunday as part of the Remembrance Day service, by members of the Pukaar group – a group of Asian women with physical and learning disabilities – which meets regularly in Belgrave to take part in arts and crafts activities.
The project has been supported by Leicester City Council's arts and museums service as part of Unremembered, a national scheme devised by the Big Ideas organisation. Unremembered commemorates the contribution Labour Corps from across the world made to the First World War – carrying, building, washing and cleaning, supporting troops and making brave, and often overlooked, sacrifices.
Another of the wreaths will be laid at the Cenotaph in London, as part of the memorial service there on Sunday.
Deputy city mayor Cllr Piara Singh Clair, who leads on culture, said: "These wreaths are a mark of respect to the sacrifices made by the Indian Labour Corps, and will be a fitting tribute when they are laid at the Cenotaph and our own war memorial as part of the Remembrance events on Sunday."
(Ends)