Awards for environmental volunteers
Published on Monday, October 29, 2018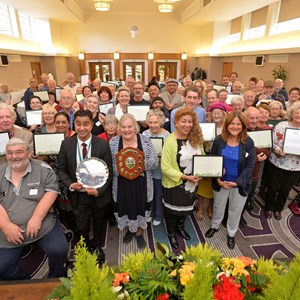 VOLUNTEERS who have helped their neighbourhoods to blossom and helped improve the city's parks and waterways have won a range of awards for their efforts.
Dozens of independent groups and individual volunteers from across Leicester turned out for the Leicester Environmental Volunteer Awards 2018, at City Hall, on Friday, October 26, for the results of the annual Royal Horticultural Society's 'It's Your Neighbourhood' and 'Bloom' schemes.
The awards cover a range of local projects encouraging people to get involved in gardening schemes, conservation and environmental tasks to improve their local areas, parks and waterways.
In all 29 independent horticultural projects across the city were represented, covering community allotments, hanging baskets and planters, and improvements to community gardens. Edible crops grown as part of the schemes are shared among the group and the local community. 
Ten groups received a top Level Five - 'Outstanding' award, representing the pinnacle of RHS community participation, environmental responsibility and gardening achievement.
A further eight groups won Level Four - 'Thriving' status; five groups took awards at the Level Three - 'Advancing' stage, with two groups receiving Level - Two 'Improving' awards.
A further one group was recognised with Level One - 'Establishing' awards. Three groups received commendation awards.
In addition, the 'Evington in Bloom' scheme won a Silver Gilt Award in the regional East Midlands in Bloom Urban Community Bloom category.
As part of the same submission, The Dove pub in Evington took a Silver Award for the Best Hotel/Pub Garden display, while Mayflower Primary school won Gold for the Best School Garden and best fruit and veg garden in the East Midlands.
Resident Sue Smith, of Church Road, Evington, won the Silver Gilt Frank Constable Award for the Best Residential Garden, while the Burnaby Gardens project in Evington Park received a Judges' Award.
The Parks and Open Spaces Outstanding Contribution Award was awarded to Allan Rogers for his dedication to looking after Humberstone Park for 20 years.
The Volunteer Project Award went to the Clarendon Park Community Garden, which transformed an old disused play area site into a haven of tranquility with a range of annual and perennial shrubs and flowers.
With over two hundred members, the group gets together to celebrate prominent calendar dates with community events to bring together the local residents.
In addition, parks also celebrated their dedicated local environmental volunteers, who work in all weathers to to improve and conserve the city's parks and waterways. Each volunteer received an award and certificate in recognition of their outstanding commitment.
To cap their success in the local RHS schemes, the Evington in Bloom project has also just been awarded silver in the Urban Community Category of the national-level RHS awards in Belfast, representing East Midlands in Bloom and Leicester to a nationwide audience.
The city council's director of neighbourhood and environmental services, John Leach, presented the volunteers with their certificates at the City Hall event.
Leicester deputy city mayor for culture and leisure, Cllr Piara Singh Clair, said: "Volunteer groups and individuals play a vital role in helping the city's pa rks and communities look their best, both through major projects and smaller local schemes.
"It is fantastic to recognise the effort that goes on throughout the year, and to see the results of that work.
"It is also encouraging to see so many awards being won by groups which take real pride in their communities."
Information on Leicester Environmental Volunteers is available at: http://www.leicester.gov.uk/parks-volunteering
(Ends)