Black History Month events announced
Published on Tuesday, September 18, 2018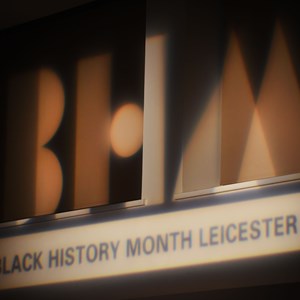 Events will be taking place across Leicester throughout October. Seen and Not Heard: Black Women will focus on female voices from the African and Caribbean communities of our city. Serendipity, co-ordinators of Black History Month in Leicester, chose the theme to put women's voices centre-stage, and tie in with the 100th anniversary of some women in Britain receiving the right to vote.
2018 also marks sixty years since the founding of the West indian Gazette by Claudia Jones, and the thirtieth anniversary of the Sisters of the Long March tour of the UK, when a group of South African women raised awareness of the struggle against Apartheid.
This October, a diverse range of events will take place to mark Black History Month. Phoenix Cinema will play a selection of independent films including Winnie (10 October) and the rarely-played Hallelujah Anyhow (17 October).
On 11 October, Olympic legend and civil rights activist Tommie Smith will host a talk at De Montfort University Leicester (DMU), where he will discuss the impact of his world-famous black power salute on the podium at the 1968 Summer Olympics. Everyone is invited to join panelists Michelle Gayle, Karen Salt, Kennetta Perry, Bertha Ochieng and Rachael Young, who will come together for BlackChat: Women Talk, to discuss representation of Black women in arts, media and politics (18 October, CURVE theatre, Leicester).
Of course, Black History month would not be complete without a full bill of live music to enjoy, and 2018 is no different. This year's line-up includes Mellow Baku's Booksong Jazz (6 October, Riverside Café); female collective Nerija (12 October, The Venue @ DMU); Motown classics from Get Ready (13 October, Leicester Haymarket Theatre); singer and songwriter Decosta Boyce (18 October, The Venue @ DMU); iconic British band Soul II Soul mark 30 years of their debut album at De Montfort Hall (25 October); a special concert to mark 70 years of Windrush (25 October, Sue Townsend Theatre), and MOBO-nominated jazz vocalist Julia Biel (25 October, The Venue @ DMU).
For more information contact Serendipity-UK on 0116 257 7316, or email info@serendipity-uk.com