Celebrate Diwali by moonlight as Museum of the Moon returns to city
Published on Monday, October 22, 2018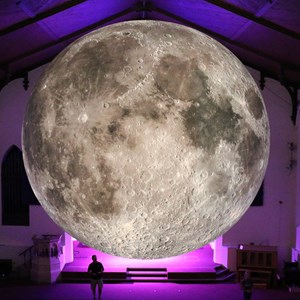 DIWALI visitors to Leicester's Golden Mile will be able to celebrate by moonlight as a giant seven-metre diameter model of the moon is installed inside Belgrave Neighbourhood Centre.
The Museum of the Moon, which was at Leicester Cathedral earlier this year, returns to the city in time for the Diwali festivities, and will hang in the hall at the neighbourhood centre from Sunday 28 October until Wednesday 7 November.
Designed by installation artist Luke Jerram, the Museum of the Moon includes detailed 120dpi NASA imagery of the lunar surface, mapping its features at an approximate scale of 1:500,000. It will provide a unique backdrop for the centre's popular annual rangoli exhibition, which features ornate traditional and contemporary Indian decorative patterns created from coloured sand and rice.
Pravin Mistry, artistic director from Leicester Belgrave Mela, who organises the rangoli exhibition, said: "This year's rangoli artwork will be inspired by the moon, reflections, stillness and culture. It will include a spectacular fluid design that will be floating on water, directly below the moon.
"As we push the boundaries of rangoli as an artform, we will be creating a 3D rangoli as well as a chance to see traditional and street designs. This year, the rangoli designs will be created by local and international artists.
"The exhibition is free and open for all to enjoy, and will launch on Sunday 28 October with a sitar player in residence. It will be an inspiring, evocative and visually stunning exhibition, produced by Leicester Belgrave Mela in partnership with Leicester City Council and Tilda."
Families can also take part in rangoli workshops at the neighbourhood centre during half-term, with the chance to meet artists and create your own rangoli on Tuesday 23 October.
Diwali-themed story-telling sessions will also be on offer, at Rushey Mead library on 23 October and Belgrave library on 25 October.
Cllr Piara Singh Clair, deputy city mayor for leisure and culture, added: "Our Diwali lights switch-on is always a hugely popular event and it's great to be able to offer a programme of family activities in the run-up to Diwali.
"The addition of the Museum of the Moon this year will make our festivities even more special. I look forward to joining the tens of thousands of people who flock to the Golden Mile to be part of our internationally-renowned celebrations."
Public viewing of both the moon and rangoli exhibition starts at 4pm on October 28, in time for the Diwali lights switch-on. The moon and rangoli exhibition will remain at the centre until Diwali Day celebrations on 7 November.
A programme of community activities inspired by the moon will also take place, including a family day of drop-in lunar activities at the neighbourhood centre on Saturday 3 November. The activities are being organised by the city council's neighbourhood services in collaboration the National Space Centre, and herald the beginning of a partnership between the two to deliver more community events next year.
Tamela Maciel, Space Communications Manager at the National Space Centre said: "We are really excited to be part of the Diwali celebrations. This is a pre-cursor to the community engagement programme that will be launched in summer 2019, thanks to funding through the Inspiring Science Fund, co-funded by UK Research and Innovation (UKRI) and Wellcome.
"We look forward to working with the council over the next two years to grow a vibrant and sustainable project for the betterment of communities throughout our home city."
(ends)